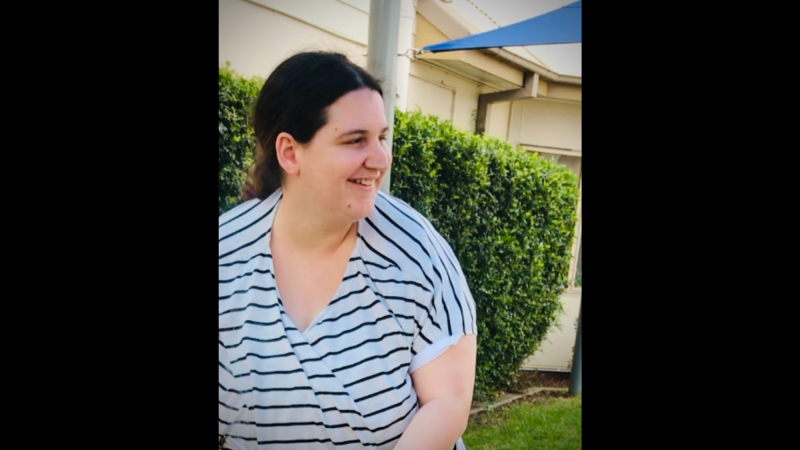 For me, Flourish Australia's Women and Children's Program was life changing when I felt powerless to keep my family together.
I want to be a great mum to my children and make sure that every opportunity and possibility in life is available to them.
My lived experience of trauma led to my first to children being removed from my care. Though I never gave up fighting to put my family back together, it's thanks to Flourish Australia's Women and Children's Program that I now have the confidence and life skills to make it happen.
I felt extremely anxious about entering into their intensive residential program, but when I gave birth to my third child, Mia, the Department of Families and Communities insisted that completing the program was the only way that I would be permitted to take my daughter home to live with me.
The program leaders came to see me in hospital and explained that a home would be provided for me at their secure site, while I participated in the program for an initial three months. 
Trusting the staff and meeting new people seemed very challenging in the beginning, but connecting with other women within the program has been so beneficial for me. We all have our own struggles, yet there's a sense that we're all in this together. We're building community by helping each other out, with the kids or just an understanding ear. Flourish Australia nurture such a supportive environment in that way.
I am so grateful for the Flourish Australia team who have supported me every step of the way. They take their work very seriously and always make themselves available to help me with whatever I need.
The whole process has taken so long and often felt very confronting for me but I have persisted. Flourish Australia have always commended me for that. With their continual encouragement and support, my confidence in my abilities as a mum has grown so much through this program. I feel stronger in myself and I've learned the power of using my voice to advocate for my wants and needs.
People say they barely recognise me these days. I'm not the same person I was when I first joined the program. I've developed new ways of doing things, through free courses in life skills and parenting, provided as part of the program.
Flourish Australia also connected me with the right medical care to assist with managing my medication. I had been struggling to wake up to my child when I needed to and discovered that I could actually function better without the medication I had come to rely on. 
The staff genuinely care about my wellbeing. Once I completed the program, I chose to take my daughter Mia to live with our extended family in Queensland but stayed in touch with them by phone and email, often sending photos of Mia as she has grown.
As I rebuilt my self esteem, I became determined to do what was necessary to have my son William restored to my care. With Flourish Australia alongside me I succeeded! When the time came, I asked to complete the process at The Women and Children's Program because it feels like such a safe and familiar place to me now.
Following my recent diagnosis of Autism Spectrum Disorder, I've come back to Sydney and resumed my learning with the Women and Children's Program. I want to be equipped  to manage my mental health and achieve a stable home life for my family. Both William and Mia have significant developmental needs which presents new challenges for me in addition to note having parented to children at once before.
What I love about the wonderful women who run Flourish Australia's Women and Children's Program is that they never judge. They always treat me with respect and understanding and reassure me that I am up to the task of caring for my kids. With their support I am having my children's diagnoses assessed so that I can fully understand the best ways to support them, such as finding better ways of learning to meet their needs.
Flourish Australia's expertise has been invaluable in assisting me to apply for and coordinate NDIS services. I've gained access to therapeutic interventions and will be in a position to put in place all of the supports that my family will need to thrive beyond the program.
Being part of the Women and Children's Program has given me the motivation and courage to go after what I want for my life and for my family. It has taught me that you need to work at what you want, but you don't need to do it alone. Working together with others toward the goals I set for myself reassures me that I can accomplish anything I set my mind to – like taking the stand at a hearing to have my son restored to me. Without the Women and Children's Program, I don't believe I would have been up to that.
At the lowest points in my life, it has meant so much to me to be told "you're such a beautiful mum" and be praised for the hard work I have invested to fight for my kids. I can call the program managers any time I need them and say what I fear or feel, knowing they will respond in a way that is compassionate and supportive.
Flourish Australia's Women and Children's Program shows women like me is that regardless of the circumstances or disabilities you face, with caring people alongside you, you can achieve what you want for your life and choose to live it in a positive way while going after your goals. 
Obstacles no longer cause me to put my life on hold. As I prepare my son for school years, I want to set an example for him, that he doesn't have to settle for anything getting in the way of what he aspires to.
One of the biggest things I've ever done in my life is a video I produced with Flourish Australia to share my story.  It means a great deal to me to know that what I've been through might inspire and encourage other women in the community.
It makes me very happy to know that so many people are here for my family now. I believe every woman who come to this program will starts to see that she can turn her life around, the way that I have, and not only imagine a better future for her family, but make it happen!
The sensory garden and activity centre that Flourish Australia are fundraising to complete is an important part of the recovery process, providing a place where children like mine can be hands on and get involved in ways that help them to heal and grow, so they thrive in their lives. 
Talk to us today
Our approach to supporting you is different because more than 50% of the people we employ have had their own lived experience of mental health challenges and many of them make up our peer workforce. They get it, because they have been there, so they're able to come alongside you with genuine understanding and insight. 
For more information, contact us on 1300 779 270 or make an enquiry now.