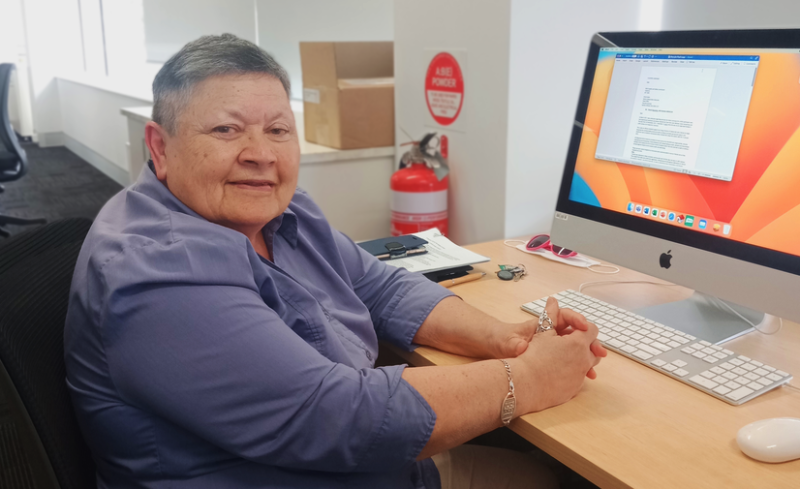 Annie Sykes is the Senior Independent Advocate for Flourish Australia. Annie's contribution to improving the lives of people with a lived experience was celebrated in the book "Hope, strength and determination - Celebrating 50 years of women activists and reformers in mental health in NSW 1970–2020."  
We're honoured to have Annie agree to share her inspiring story... 
Wanting To Change The Status Quo 
I first became interested in working in the mental health sector after having a lived experience of a mental health issue and many hospital admissions.  
Back in the early 1970s, the only job role I could do in the mental health system was psychiatric nursing, so I studied that at Tokanui psychiatric hospital in New Zealand. Those four years at hospital were tough because I was constantly relapsing and going in and out of hospital, and I left the course three months early.  
The System, Then and Now 
The mental health system was difficult back then, it's still difficult now, and everybody knows it. I have always questioned how things are run in mental health, and while I believe my hospital admissions saved my life, there was a lot of ugliness in how the patients were treated. We had no rights, and no real way to complain about our poor treatment. I found the Australian system very similar to the New Zealand system in regards to their attitudes and the ways they ran things. For instance, the staff wouldn't even bother to tell us when somebody died; sometimes we'd get up for breakfast and one of us simply wasn't there anymore. There was no respect. 
A New Calling 
My focus switched to advocacy work almost as soon as I discovered it. During my last admission to Roselle hospital in 1995 there was a major breach of my confidentiality, so I made a formal complaint, and Peter Scharken (a respected peer worker and consultant from the old days) advocated for me. I ended up receiving a formal apology, and disciplinary action was taken against the staff member who was at fault. As advocacy was based on providing justice and fairness for all, something that was a new experience for me, I was certain I wanted to do this as a career. 
After doing my training at North Shore Hospital, in 2001 I gained my first advocacy job with PRA (now known as Flourish Australia). Since then, I've seen people's human rights greatly improve.  
My Career 
Becoming an effective advocate meant combining my formal training with my lived experience of a mental health issue. Due to my history, I am also well equipped to work with people who may have experienced trauma, and it's always my top priority to avoid retraumatising the people who seek my support.  
Back when I started off, there was no set model with how advocacy was supposed to work, so I was truly breaking new ground almost every day.  It's now been two decades, and I'm still creating new roads! For instance, recovery is a huge deal in the mental health field now, and I've always lived and breathed recovery. It plays a major role in my advocacy work.  
In recent weeks I've had a lot of advocacy cases come in, so I'm looking at doing more hours to cover the workload, and Flourish Australia is exploring whether we might bring a new independent advocate on board. 
I am still passionate about my work, and I know I have a lot more to offer as an advocate. 
What I've Learned 
Being on a recovery journey can make it very easy to be down on ourselves. We can be our own worst critics, and the stigma and discrimination we face doesn't make it any easier. But I always try to remember that I am the best version of who I am at this moment in time. We all have the potential for growth, and Flourish Australia can help. 
I would say building a support network is vital. I'm so grateful to those who helped me grow and recover and achieve my potential. I've reached the point where I get through relapses a lot quicker, and thankfully I'm no longer experiencing that constant negative internal dialogue that tells me, "You're a failure, you'll never get anywhere in life." We all need people who encourage us to explore the possibilities of our futures.  
We also need to gain an understanding of ourselves. If you have an appreciation of where you've come from, this will provide insights into where you are today and where you're going next. I used to feel like every relapse was a failure on my part, as though the bar was set too high and recovery was out of reach. But I now accept and embrace my mental health issues as a part of who I am, rather than a defect. I no longer live in 
fear of relapse or beat myself up for taking time off work.  
Above all, I think it's important for everyone to know that we are all holders of hope. When we're feeling a bit wobbly, then somebody else can hold that hope for us. And as we continue along our journey, it's important to know that we can come back to this hope in time.  
I'm very proud of being 70 years young, and I feel a real sense of peace and contentment with where I am in life. I'm no longer just surviving: I'm thriving and flourishing! I'm finally comfortable in my own skin. 
"Recovery is not linear, and wherever you are in your recovery journey is the right place for you for now. It's where you need to be, and that's the principal of recovery." 
– Annie Sykes 
Talk to us today
For more information, contact us on 1300 779 270 or make an enquiry now.