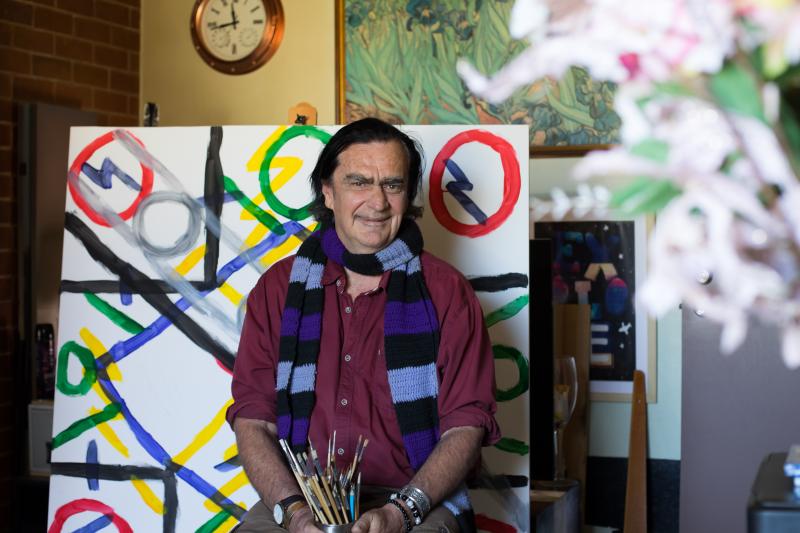 Trained in Marine Engineering, I once worked 12 hour shifts, 5 days a week. Now, I find peace of mind creating engineering-inspired artwork.
Persistent mental health issues made it impractical for me to continue working as an engineer. When my symptoms first appeared I had no awareness about mental health. Even after becoming unwell more than 20 times, I was unable to read the early warning signs.
I continued working with heavy machinery, where Personnel flagged concerns with me about my wellbeing. I had no idea what I was dealing with until debilitating symptoms hit hard and I was hospitalised. The experience disrupted my life completely. I thought the world would end. With every step forward, I became unwell, until I found Flourish Australia.
With their support, I'm staying well. Setbacks I experienced with medication are now under control. I'd love to get back to work but find art to be a less stressful outlet.
I rediscovered my love of art as part of my recovery process. I create canvases as big as 1.5x1.75m. Materials are expensive but it's a worthwhile investment in my wellbeing. The artistic process stills my mind. Displaying my work around the hospital and Flourish Australia's Newcastle centre gives others that same sense of tranquillity.
I still dabble in engineering. It inspires my drawings. I attained straight A's in hydraulics as a kid and I've since completed TAFE training and a merit award in motor mechanics.
Just like putting in a hard day at work, I feel a real sense of achievement each time I finish a drawing. I'm happier in myself, I've made solid friendships and found time for simple pleasures like fishing or meeting a mate for coffee.
In my wildest dreams, I never thought I'd become unwell the way I did. The experience taught me to roll with the punches. Flourish Australia's encouragement strengthens me to do that.
I'm not going backwards anymore. I don't try to go it alone but I'm confident I can work things out. When I recognise that I'm becoming unwell, I get straight on the phone for support and put my management plan into action.
Talk to us today
Our approach to supporting you is different because more than 50% of the people we employ have had their own lived experience of mental health challenges and many of them make up our peer workforce. They get it, because they have been there, so they're able to come alongside you with genuine understanding and insight. 
For more information, contact us on 1300 779 270 or make an enquiry now.