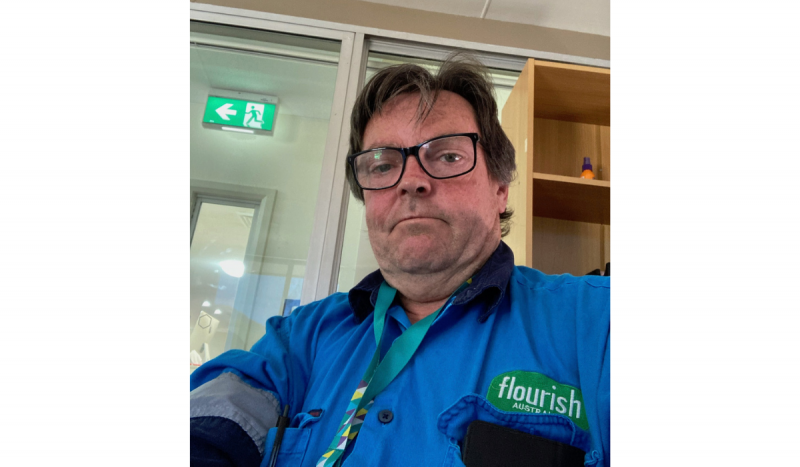 Supported employment with Flourish Australia's cleaning business in Tamworth was a fresh start in life that led me to recognise my inner resilience and seek opportunities for promotion.
I had been given a diagnosis of paranoid schizophrenia, following a crash while serving in the army, and suffered a series of strokes which led to losing my marriage, my home, my locksmith business and even my car. I was virtually homeless when Flourish Australia found me, and everything changed for the better.
To begin with, they helped me to find stable accommodation and access NDIS funding. They were with me every step of the way through extensive rehabilitation and speech therapy, taught me to cook for myself again, drove me to appointments, and took me out for coffee to keep my spirits up.
I jumped at the opportunity for supported employment with their Tamworth cleaning team and was provided with four weeks of training, with flexibility to continue my rehabilitation.
The managers are just brilliant. They would come alongside me and ask if I had any issues, and when I did, we resolved them together on the spot. They even gave me a dictionary to encourage me in my efforts with speech therapy and memory loss. My team mates were such good people too. The whole experience changed my outlook on what was possible for my future.
Mindful of how down and out I had felt when Flourish Australia reached out to me, I felt motivated to want to return the kindness by helping others.
I feel driven to use my experience of how life changing it is to be supported and encouraged in this way, to relate with others who are struggling. I set my sights on becoming a Peer Worker and applied externally for two positions with Flourish Australia. Though I was unsuccessful, they were impressed with my resilience and suggested I apply for the job of Supervisor with their cleaning company.
I am thrilled to say I aced that interview and now work alongside teammates I formed friendships with, offering advice, guidance and encouragement as their trusted supervisor. They really appreciate the progress I've made and tell me it inspires them to strive for promotion themselves.
My goal is to make my mark in this role and build my skills and experience, with a view to one day advancing even further within the organisation. I admire the way Flourish Australia does things and want to remain part of it.   
Having regular income made it possible for me to pay out my car and buy a motorcycle. Owning my own home again is top of my list. I'm proud of myself for finding the resilience to come such a long way, from struggling to walk or talk, to supervising a commercial team.
I am extremely happy right where I am in my life. When I recently bumped into my former wife, she could barely believe it was the same person.
Talk to us today
For more information, contact us on 1300 779 270 or make an enquiry now.