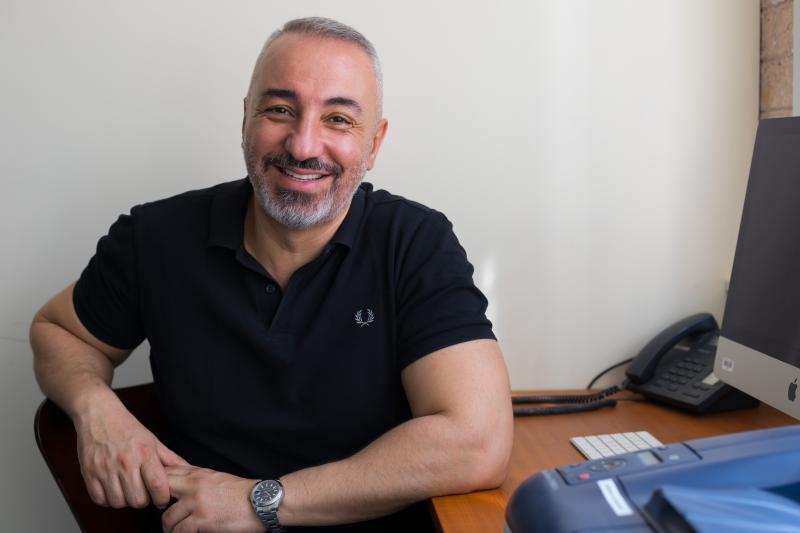 As a top ranking regional director in the international hotel industry, my satisfaction was knowing someone slept better at night, thanks to my team's efforts. This has even greater meaning for me in my management role with Flourish Australia.
My heart was always to work with an NGO. As a teen in Lebanon, I volunteered during a Civil War with organisations that connected people with disability support services, and resolved to one day do this for a living.
My career success managing world class hotels reinforced the value of striving for excellence in serving others. I flourished professionally and volunteered at night supporting young people living on the streets of Montreal. I was so driven to make a difference that I didn't get enough sleep. When my health suffered, I stopped. 
The experience opened doors for me once I arrived in Australia. I trained to become a bilingual support worker with an education centre in Parramatta that addresses domestic violence.
I met my partner at STARTTS where he supported Arabic-speaking men, challenged by the language barrier in starting a new life.
Domestic violence is common in these situations and my role was educating the men to understand that it's a crime in this country.
Fortuitously, I was introduced to Flourish Australia when I attended their Christmas party with my partner. When I shared what I was doing, they recommended a recruitment day to me – and here I am!
It's a dream come true to leave work each day knowing I've made a real difference using my many years of management experience. I respect the great work of every one of my 45 team members and set them up for success by ensuring they feel supported. In the mental health sector, training is on-going because there is always more to learn about the many different experiences of mental health and ways to support people.
In my own lived experience, Flourish Australia's Rainbow Network has been life changing. Culturally, my marriage to a man was not something I felt safe talking about. Finding freedom to express this openly showed me the importance of connections like this for those facing stigma.
Talk to us today
Our approach to supporting you is different because more than 50% of the people we employ have had their own lived experience of mental health challenges and many of them make up our peer workforce. They get it, because they have been there, so they're able to come alongside you with genuine understanding and insight. 
For more information, contact us on 1300 779 270 or make an enquiry now.