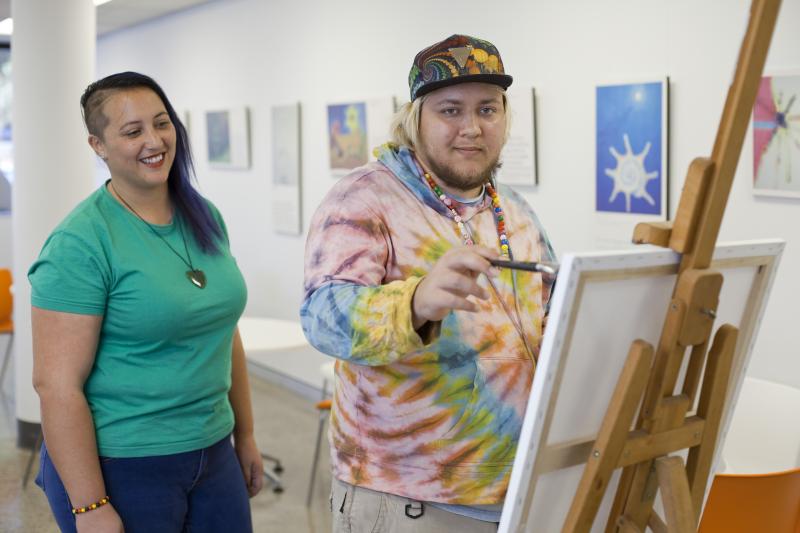 With Flourish Australia's Young People's Program I found the motivation I needed to get out more and try new things. I've become more positive and experience more happy days in my life. 
It feels good to have choice in what I want for my future. I went straight from high school to factory work but this program has given me the opportunity to give other things a go. I like that it's not too structured and there's flexibility to fill my days with whatever I want. Getting more involved socially with up-beat people has brought more balance to my life and I feel able to talk to the other guys about what's going on for me while we're out and about together.
I'm more active now. I go to the gym, walk and swim. I've tried archery and sculpting for the first time and I've gained the skills to prepare meals for myself. We all do chores at the Flourish Australia shared home I live in. We have support workers on hand 8am-10pm and it lifts my spirits to know they'll be coming in and will support me to get to my appointments. Because they relate to me as an equal it makes it easier to trust my own judgement. 
I've had some hurtful life lessons that left me feeling used and drugs seemed like the easy way to avoid the pain but I've learned a new way of seeing things and better ways to deal with my problems. I've become a wiser person who makes better decisions.
Staying connected with people has put me on a much better path. Compared to how things were going for me a year ago, I'm in a really good place in my life.
Talk to us today
Our approach to supporting you is different because more than 50% of the people we employ have had their own lived experience of mental health challenges and many of them make up our peer workforce. They get it, because they have been there, so they're able to come alongside you with genuine understanding and insight.
For more information, contact us on 1300 779 270 or make an enquiry now.