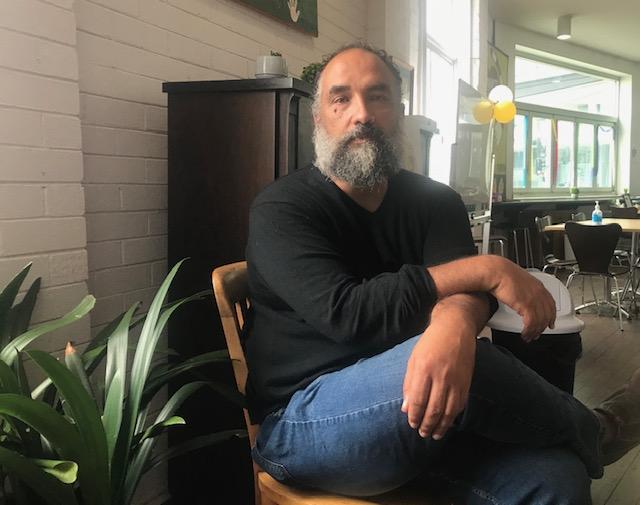 The more I make creative expression part of my life and develop skills around it, the more useful it becomes for managing my mental health.
Since accessing the NDIS with Flourish Australia's support, and getting involved with creative activities offered by their New Outlook program, I'm turning my life around. It's been vital for my recovery to reconnect with my love of photography and songwriting while making new social connections.
Since my father gave me my first camera when I was six, capturing beautiful images of the world around me brings me joy. When I became unwell,  felt my life lacked meaning and photography propped me up for a while.
I was studying to become an English poetry professor until experiencing a psychotic episode and a diagnosis of schizo-affective disorder impacted my life. I continued to win awards with my studies but felt unhappy and wasn't functioning well.
Once I graduated, I got my hands dirty working at my uncle's vineyard while photographing farm equipment. I later moved to Wollongong, then Dapto, and was admitted to hospital three times. On my second, voluntary admission, I heard about Flourish Australia and took the initiative to check out their drop-in centre. Getting out of the house to go there helps me to overcome feelings of paranoia and I receive verbal support for managing obsessive-compulsive behaviour. NDIS funding has been a game-changer. I use it for art and exercise therapies, as well as having my lawns mowed and my house cleaned.
When Flourish Australia learned of my interest in photography, I have invited to co-facilitate a photography group. Coaching people helps me to feel optimistic and gives me a reason to get out in the community after shutting myself away for years while caring for my parents.
I've created "The Portrait Chair", where I photograph people who come through the centre. Even those who feel uncertain about having their photo taken, tend to be pleasantly surprised with the results. I let them be themselves, and capture their individual mannerisms, as famous photographer Annie Lebovitz does, so the image feels natural. One woman who struggled with body image issues dreaded posing for the camera but told me she enjoyed the experience and loved her picture, which made it seem so worthwhile.
Just prior to the COVID-19 lockdown I launched an exhibition of my work in Wollongong CBD. I'm building another body of work for an exhibition at the Art Gallery in September, based around everyday things, re-presented with fresh eyes. Flourish Australia helped me to get up to scratch with computers and I now have profiles on Facebook, Instagram and a poetry app. I now feel confident to venture beyond my front door, thanks to changing my medication with their support, and. I've found a musical mentor in David Dent, who runs their weekly music group and encourages me in my songwriting.  
For me, it's about getting better at feeling, not feeling better.                                                                                                                    
Talk to us today
Our approach to supporting you is different because more than 50% of the people we employ have had their own lived experience of mental health challenges and many of them make up our peer workforce. They get it, because they have been there, so they're able to come alongside you with genuine understanding and insight. 
For more information, contact us on 1300 779 270 or make an enquiry now.