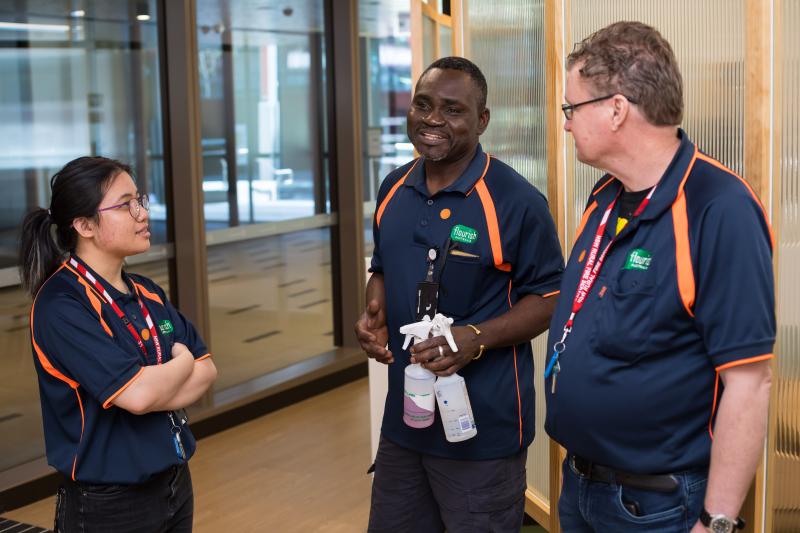 Supported employment with Flourish Australia has given me the balance of stability and flexibility I needed to succeed in my studies and grow as a person.
I am thrilled to have completed a Medical Science degree despite the added pressure of a pandemic and grateful for the job security Flourish Australia provided. Hospitality work with their Figtree Conference Centre gave me a source of income for living independently with the flexibility I needed to prioritise my studies. When social distancing restrictions put all events on hold, I was supported to retrain and transition to a cleaning role with another of Flourish Australia's community businesses.
Working as part of a team that provides specialised cleaning for the NSW COVID-19 Response Centre at RFS Headquarters in Sydney Olympic Park gives me the opportunity to get out of my house and connect with other people. My supervisor is happy to factor my need for time off to prepare for exams into our roster and I enjoy the camaraderie with my workmates. Being fully engaged on the job is good for my state of mind. I experience less anxiety and proving to myself that I could master new responsibilities has boosted my self esteem.
I'm surrounded by positive people in an inclusive workplace where I'm encouraged daily with compliments.
The structure of employment has taught me the importance of time management. An ability to focus under pressure is beneficial for balancing study and work commitments.
I've come such a long way in my life since graduating from Flourish Australia's YClass program for young people where I did a lot of growing in practical life skills and resilience. This helped me to cope with transitioning suddenly to online studies and a whole new way of working. The counselling support I received inspired me to want to help people and I see a medical career as the best way to do that.
As my dream takes shape, having Flourish Australia alongside me reminds me that I don't need to do life on my own anymore.
Talk to us today
Our approach to supporting you is different because more than 50% of the people we employ have had their own lived experience of mental health challenges and many of them make up our peer workforce. They get it, because they have been there, so they're able to come alongside you with genuine understanding and insight. 
For more information, contact us on 1300 779 270 or make an enquiry now.