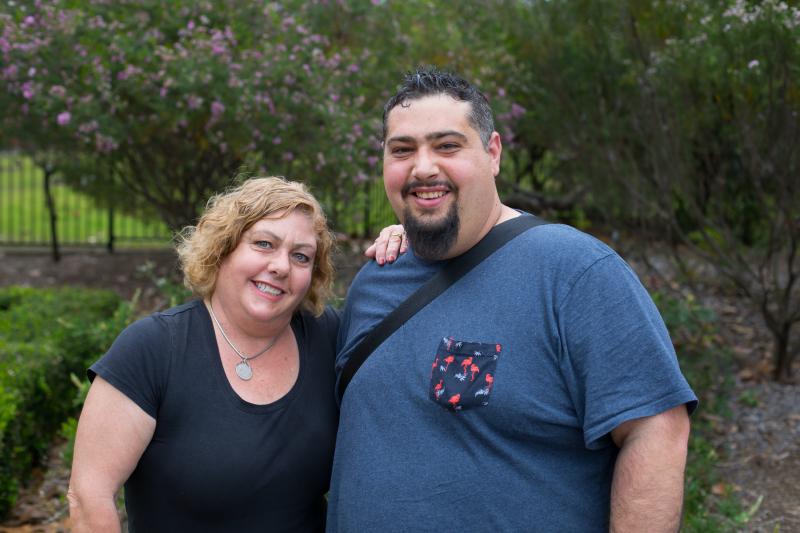 The independence that my son William found in employment with Flourish Australia's Harris Park Warehouse freed me to reclaim my life.
William's heart was set on an airforce career before his lived experience changed both of our lives overnight. Every aspect of my life was suddenly overshadowed with concern for his wellbeing. The sun came out for me when William found the opportunities he needed through a job he loved. It gives me hope for his future that he's now pursuing TAFE studies to become an electrician.
The recovery journey was like being on a roller coaster ride together. Health and fitness became my way of venting anxiety. My friends couldn't relate to what I was going through but my personal trainer was a wonderful listener. I believe every carer must find someone who will listen, without judgement, to what's going on for you and keep you accountable for taking care of yourself.
This is what Flourish Australia does for people. With their support, I learned that William has what it takes to cope with his own life challenges. A weight has lifted from my shoulders knowing that meeting his needs is no longer all on me.
I felt frustrated at first with the recovery process and wanted to move William quickly through what needed to happen. I learned that rushing someone can trigger anxiety. Slowly wins the race when it comes to mental wellbeing.
19 years as a care worker taught me that while you're busy with work, there's no time to dwell on problems. Meaningful work in a supportive workplace took William from dwelling in the doldrums to challenging himself and changed everything for the better in our lives.
Before Flourish Australia my son couldn't look me in the eye or hold a conversation. Hearing him say "I love you Mum" is the greatest gift. I have my son back and there's no stopping him now.
Read other inspiring stories here.
Talk to us today
Our approach to supporting you is different because more than 50% of the people we employ have had their own lived experience of mental health challenges and many of them make up our peer workforce. They get it, because they have been there, so they're able to come alongside you with genuine understanding and insight. 
For more information, contact us on 1300 779 270 or make an enquiry now.