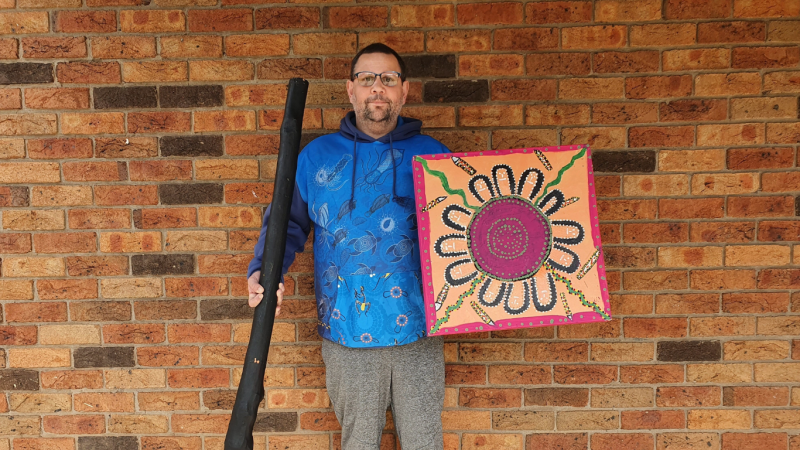 Through painting, I reconnected with my spirit and found the resolve to pull myself back from a slippery slope of drug abuse and acting out, to embrace my people, my culture, and my passion for life. Now I hold my head high as a proud Wiradjuri man and find meaning in sharing my lived experience purposefully with young people in my community, to encourage them in the direction of better way of doing life well.
I held a lot of pain and anger before joining Flourish Australia's Resolve Program at Orange. Just two years later, with the right support, I have completely turned my life around to become who I truly am. As part of my recovery, I painted this artwork to display there. It speaks of the traumatic life journey of my family of origin, which played a big part in forming my identity.
Growing up in Central NSW, I loved learning about our land and culture from my grandfather and being part of a close-knit community. Life took a turn for the worst when I was taken away by the Aboriginal Protection Board, along with my seven siblings. My mother was among the stolen generation, taken from Cowra Mission back in 1953. My brothers and I were sent to a boy's home in Kempsey and subjected to forced labour, while my sisters remained at Cootamundra where they were made to pick peas. Only my grandfather remained on country. It was from him that I learned our language, how to play digeridoo, and other aspects of our heritage, which are deeply woven into who I am and have been a key to my mental health recovery.
My artwork conveys those life experiences and are reflected in the green dots, representing the peas, green lines that indicate the roads in all directions that we journeyed on, and sharp spears, signifying the fight for our lives and the right to self-determination.
During my high school years in Orange, the pain and anger I felt led to heavy drug use and I attempted suicide several times. I hated myself for what I'd become and recognised that I needed to reach out for help to get back in touch with who I really am and start making positive changes in my life. I didn't want to do life alone anymore, and what's great about the Resolve Program; it's run by Peer Workers who will have a yarn with you about the rough roads they've walked in their own lives, which makes me feel like they really relate to what I'm going through and gives me hope.
Up until that point in my life, hospitals had compelled me to complete methadone programs which I believed would just transfer my dependence from one drug to another, when what I wanted was to be completely free from addictive behaviours. Since being part of the Resolve Program, I've not touched drugs or alcohol.
I rejected the idea of painting when it was first suggested by a Peer Worker from the program, but once I gave it a go, I was amazed by the shift it brought about in me. This was the beginning of reclaiming my spiritual and cultural identity. Being connected with a range of supports through the program gave me time to think, especially the Residential support, which I accessed a number of times. The Outreach team regularly supported me, and I reached out to their 24/7 Warmline whenever I felt overwhelmed, to talk with someone who cares.
The Resolve team worked with me to plan out and reach the recovery goals I wanted to accomplish. I've been provided with art supplies for pursuing my creative passion, and they recently purchased a bike to encourage me in my efforts to improve my fitness and socialisation with my family, as well as a television, which makes me feel more settled in my home environment.
I feel I've grown up and grown stronger in myself. I consider myself to be a happy-go-lucky, deeply spiritual person now and I can socialise at the pub without feeling the need to have a beer. I've set out to influence as many young kids in my community as I can and prevent them from heading down destructive paths in their own lives. Together with a few mates, I've started a Hub House where the kids can come after school for a game of table tennis or basketball. and have a Milo and a chat. I engage them in the cultural knowledge my grandfather handed down to me as a way of impressing upon them the value of respecting who they are and their proud heritage. My hope is to raise the funds to be able to get them out in the bush to teach them how to live off the land and prepare bush medicines, get hands on with spears and fishing.
As I've come back to myself, I'm taking a more active role in Land Council Meetings and other community groups. It's about doing my bit to break negative life cycles and give young people hope of a better, heathier future. When I was high all the time nothing mattered to me. Now that I'm standing in my spirit, new opportunities are opening to me every day.
Talk to us today
For more information, contact us on 1300 779 270 or make an enquiry now.