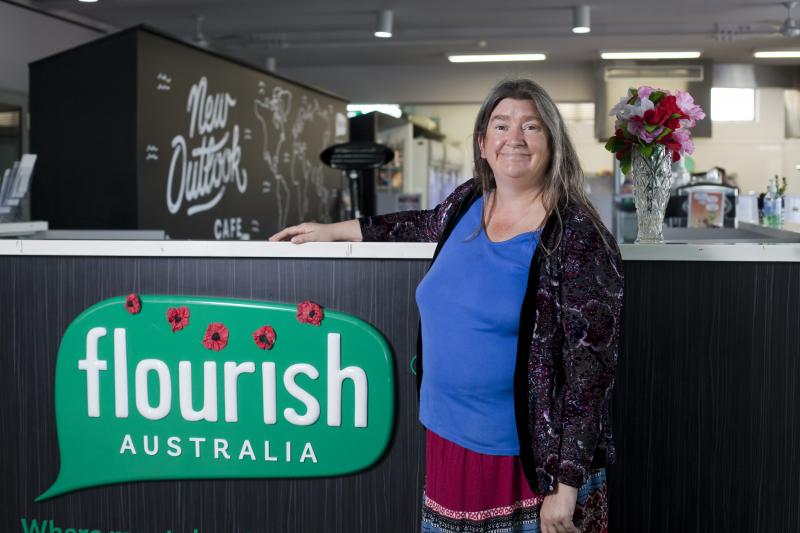 It is miraculous how many doors are opening for me since I've become more connected with other people through work I love and I manage my lived experience with greater strength and positivity.
I excelled at High School and have held clerical positions with businesses like Qantas and Woollahra but for 41 years, since the age of five, I heard voices and lived with a sense of unreality which could be disruptive at times. Before finding Flourish Australia I had been in and out of hospital for ten years. 
Through their New Outlook Program I was able to access support services and join in group activities, like the Learning Network, Hearing Voices Group and social groups. As I got involved I grew more interested in learning new skills and taking on more responsibilities. Together with management I developed a work experience program that suited my skills set, then branched out into administration. 
Today I'm the Secretary for the Members Committee and offer work, health and safety consultation for the organisation. I've put myself forward to coordinate a new newsletter planned for New Outlook and I facilitate a Hearing Voices Group. Although I have no formal training, I'm able to draw on my own lived experience to empathise and relate purposefully with the people in the group because I understand what they are experiencing. The contribution I'm able to make is so rewarding to me and I feel valued in my work. I receive compliments and encouragement from my work peers every day. 
Mastering new skills has given me the confidence to build new support networks and become more connected to the community. I'm now a peer mentor at The House With No Steps, where I recently shared my story in a webinar, and I assist with administration for the Council of Intellectual Disabilities. 
I now look for opportunities to ask people how they are doing and listen to what's going on for them, then look into how to best support them. My faith has helped me not to dwell on what has happened in the past and re-focus on helping someone else. It's my hope that sharing my own experience and faith with others will help strengthen their resolve to go after their own dreams.
Talk to us today
Our approach to supporting you is different because over half of the people we employ have had their own lived experience of a mental health issue and many of them make up our peer workforce. They get it, because they have been there, so they're able to come alongside you with genuine understanding and insight. 
For more information, contact us on 1300 779 270 or make an enquiry now.