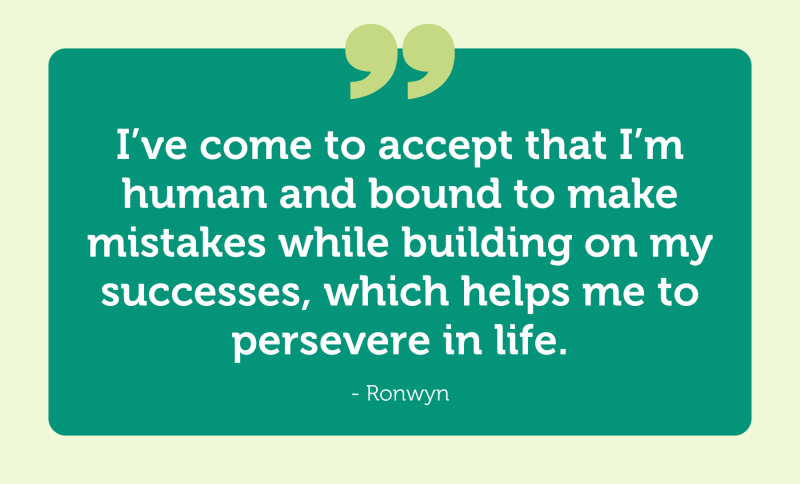 My experience of supported employment with Flourish Australia has been life changing. I've come to accept that I'm human and bound to make mistakes while building on my successes, which helps me to persevere in life.
I first tried admin work when I failed to attain entry requirements for university. It seemed unfair that chicken pox caused me to fall behind in my HSC studies but I remained resilient and pushed on with my life. I gained reception skills at TAFE, where I was then selected for a free computing course.
While studying for a Cert II in information technology, I tried a recreational drug which triggered my mental health issues. I fell behind in my studies and lived with my parents for five years, with intermittent hospital stays.
My mum connected me with specialised intervention at Cumberland Hospital, where I was encouraged to find employment to build capacity for living independently. I found a pathway to regaining my independence through supported employment with Flourish Australia.
My colleagues have all been through their own stuff, so we relate to one another's inner struggle; the bits that can't be super-glued back together and keep breaking up until we turn them into our strength.
Being part of a very inclusive workplace made a big difference to my personal and professional growth. Understanding managers walk me through processes to make everything straightforward and continually expand my skills. I was actively supported to complete my Cert II in IT. I feel so proud to have attained a distinction!
Recognising my qualifications, Flourish Australia offered me a clerical position. With counselling and encouragement from my managers, I overcame my anxiety about stepping into this role. As I complete tasks I gain confidence in my capabilities and my work performance goes from strength to strength.
The self-esteem and camaraderie I've gained through my work strengthen my resilience and hope. I've progressed to living semi-independently and set my sights on a bright future for myself and my son. He inspires me to stick with it through self-doubt.
I've become self-sufficient by establishing routines and placing a value on my incremental earnings. I remind myself daily, it doesn't matter that I'm doing something simple, it's about feeling my life has value. My focus is to keep moving forward in life.
When faced with challenges, I now have the resilience to re-think my routines to support my needs. Instead of chickening out of showing up, I tell myself, "Just do the best you can." I want to set an example for my son to go after whatever he wants in life.
Processing insurance and compensation claims for the State Insurance Regulatory Authority is work I feel proud of. It gives me the opportunity to keep developing my customer service skills, as a way of making it my nature to extend grace to others. My spiritual side is the place peace remains when I'm in turmoil.
Talk to us today
For more information, contact us on 1300 779 270 or make an enquiry now.