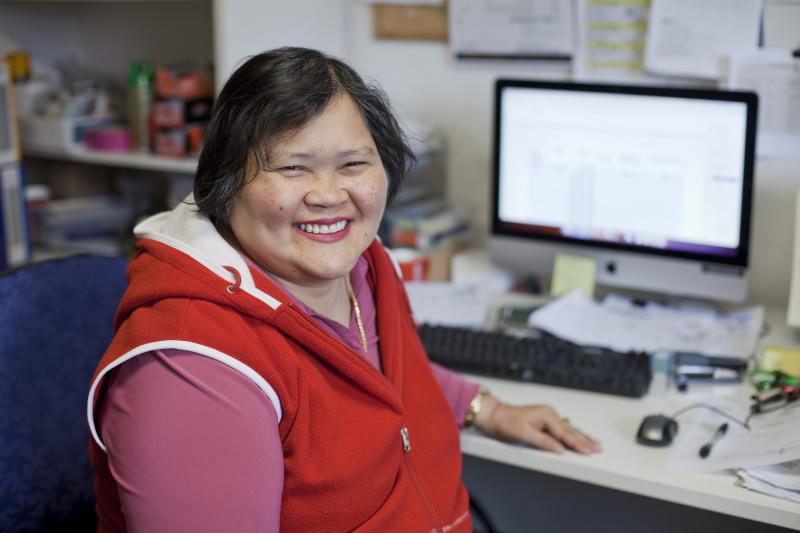 My education is something that my family and I have always been very proud of so a redundancy was a real blow to my self esteem. Finding meaningful work and further education through Flourish Australia elevated me from feeling hopeless to being excited about life!
Originally from the Philippines I have been an Australian citizen for 32 years and for many years was a NSW government employee until a lived experience of depression led to me being made redundant and out of work for eight years. Then in 2012 I took a position with Flourish Australia's Prestige Packaging where I completed my Cert lll in warehousing operations and was promoted to the administration side of the business. I genuinely enjoy coming to a workplace where I have such a supportive team who understand what I am dealing with, day to day.
I come from a big family of nine siblings and my father worked very hard to see that we were all schooled. My education was everything to me and I've had the opportunity to build my skills and qualifications by attending the classes Flourish Australia offer. 
I've found more stability in my life thanks to Flourish Australia. Everyone here is treated with the same level of expectation and respect. Having meaningful work has grown my confidence and my attitude has shifted from feeling resigned to hopelessness, to seeing possibilities for my future. The security of regular income empowers me to think about what I want to achieve.
One of my goals is to improve my fitness so I go to the gym and join in walking exercise with some of the people I've formed friendships with at work. 
I feel very fortunate to have found my way here. Flourish Australia have given me so much more than a job to look forward to every day!
Talk to us today
Our approach to supporting you is different because more than 50% of the people we employ have had their own lived experience of mental health issues and many of them make up our peer workforce. They get it, because they have been there, so they're able to come alongside you with genuine understanding and insight. 
For more information, contact us on 1300 779 270 or make an enquiry now.