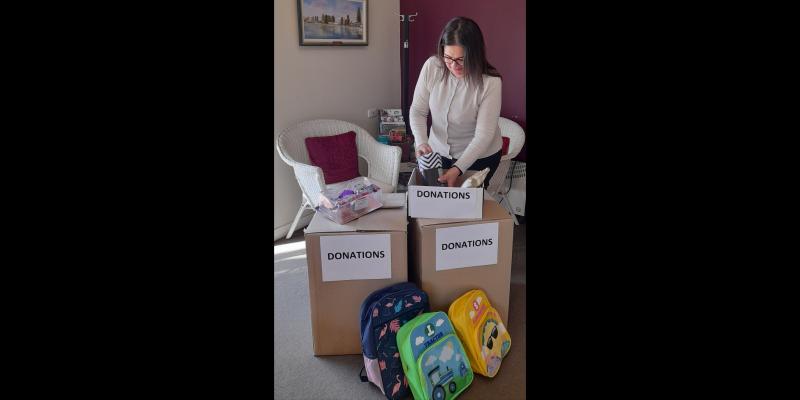 My dream was to run a small hotel, with different people coming and going, until I discovered that my life's passion is helping families find their feet, here at Flourish Australia's Women & Children's Program. 
I started out doing part time cleaning here, and would say to my husband how amazing the energy was and that I'd love to be a bigger part of it. When an admin role came up, I jumped at the chance and have since, happily thrown myself into whatever needs to be done to give the families who come here a fresh start.
Giving back is something my whole family believe in. My uncle arranges events for seniors and provides food for the homeless, my mum knits blankets to donate around the world and my husband picks up or drops off furniture, and anything else one of our mums might need. I'm fortunate to also have a network of compassionate friends who are very generous with their time and resources.
I can do a call out for items we need donated and within days, it is given! I was blown away when someone had curtains we needed for eight homes, made to order, as a gift. That spirit of giving and sense of community warms my heart when I walk through these doors. I connect with the mums and their kids who come through the administration building and get a real sense of the positive difference they feel we are making to their lives, which makes me want to do even more!
Since COVID-19, having an outdoor oasis where these families can gather together, and recover their mental and emotional balance, is more important than ever. When a playground doctor deemed our outdoor play area 'expired', the mammoth task of finding funds to replace it with a sensory garden, was set in motion.  We're creating a calming oasis with therapeutic benefits, where kids can develop important skills through exploring and nurturing plants, while mums who've been through so much, reconnect with them through play and refresh in nature.
Flourish Australia are doing all they can to fundraise and secure grants toward this wonderful project and I reached out to every organisation I could think of, to give us a hand. I'm over the moon that Bunnings are donating plants and many other items we need.
I love contributing to the nuts-and-bolts of the awesome work we do here, from sorting OZ Harvest hampers each week, to creating home environments where families feel nurtured. When they move out on their own, some of them have absolutely nothing. It's rewarding to show up with a truckload of everything they need to start over in the community
Who needs to own a hotel when I can invest in somewhere that brings me such happiness, by making a positive difference to the future of families who really need a hand.