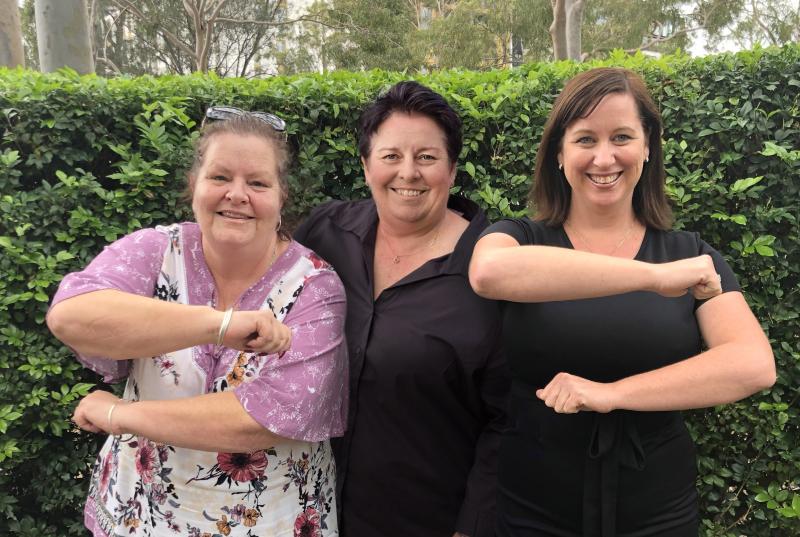 Flourish Australia sites in Queensland are located more than three hours apart but site managers Debra Gibbons, Toni Rielly and Megan Ashton have successfully bridged geographical distance by communicating collaboratively to support one another. Together, they live out a belief that equality comes down to each valuing who they are and investing time and effort into nurturing the supportive relationships around them, to build purposeful connections.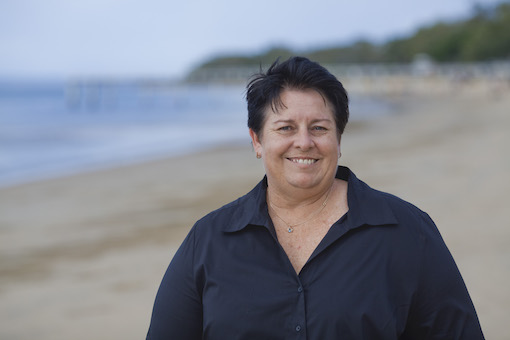 Debra Says: 
We have always had a strong       connection between the three of us.  During the past 8 years that I've worked at the Peer Operated Service I've witnessed real growth and evolution to what it is today. Toni's flexible management style and Megan's pragmatic approach are great examples of what effective Peer Work and Mental Health Support can look like. By sharing conversations regularly as we've built up the Queensland sites, we are continually learning and growing together. Our individual roles play out differently, day-to-day, but we are all mindful that self-care for everyone on our teams is as vital as the wellbeing of those we support. 
All three sites are thriving as a result of our enthusiasm for collaboration and the sharing of information that now comes quite naturally. 
Toni Says: 
Working here on the Sunshine Coast, where there are no other sites nearby to interact with, I really value our ability to relate on a level playing field. Professional ranking has never had  any bearing on the respect that flows between us. We had a good relationship right from the start when Megan was my line manager. 
Stepping up to a management role was all new to me and Megan's willingness to share her experience has been invaluable throughout building the Warana site and then navigating its restructure into an NDIS only funded service. Now that I manage a team of Mental Health Workers and Peer Workers, we collaborate on Support Coordination and any staff related issues. Because I'm a Peer Worker while Megan is a Mental Health Worker, it's beneficial to be able to share observations from our unique perspectives. 
My own lived experience set me on a path to Peer Work. Flourish Australia was a huge part of my recovery and I felt driven to give back. What happened to me in my life wasn't openly discussed within my own family so they never really understood. It's liberating to be able to talk openly with my colleagues about my lived experience and share my story to inspire those we support. 
Knowing Deborah and Megan have my back, I've gained confidence in myself to be assertive when necessary while remaining flexible. Megan has a knack for tactfully pointing out what is right there in front of you. Management, like Peer Work, is about always being aware of what's going on for others. 
I've raised two amazing daughters. As they've journeyed with me through the hard times, I've modelled for them the importance of always believing in yourself and not allowing negative self-talk, or the attitudes of others, to hold you back from achieving the goals you have set your mind to. 
It's so rewarding to play a part in opening other peoples' eyes to the choices and life changing control they have, through the NDIS. 
Megan Says: 
I'm thankful to Debra for putting our story forward. I think of us as all rowing in the same direction, across three very different sites. I'm a Senior Mental Health Worker and Support Coordinator at Flourish Australia's Caboolture site. I may be miles apart from the other sites but our end goal is the same; to provide the best possible outcomes for the people we support. 
Each site encounters its own issues, particularly with the NDIS roll-out, but by sharing information and our individual experiences we've been able to learn together and grow a natural support network between us. I like to keep an open mind in all situations and it has been really productive to be able to bounce ideas around between the three of us and gain insight from our different viewpoints. 
Toni has an awesome sense of humour, which helps those around her to cope with distressing content. She will always point out the positives in any challenge life throws at us and has a natural aptitude for connecting with people from diverse backgrounds. That we operate at different levels just doesn't come into play at all. Our attitude is, you don't hold onto what you know. You share it in the best way you can because we all ultimately benefit from that diversity of thinking. 
The three of us communicate so well that knowledge flows naturally from one to another. Balancing that team dynamic is something Flourish Australia does so well. We understand that recruiting the right person doesn't necessarily come down to just qualifications and experience; it's about the fit and how that person's unique strengths will integrate with those already on the team. Applicants ask as many questions of us as we do when interviewing them, which reflects the equal footing that's intrinsic to the work culture here as a whole. 
My manager recognises the importance of work/life balance and provides flexibility for me to be there for my three boys so they see a mum who has moved beyond cultural archetypes by placing equal importance on career and family commitments. I bring home the values I apply to working with a vulnerable portion of society; that regardless of gender or background, every person is to be treated with respect and without judgement. That goes for person-to-person interactions and on social media. 
I teach my boys the importance of setting clear boundaries. Sometimes the people I support have very set views on women so it's important for me to be self-confident and comfortable enough with my boundaries to challenge unhelpful thinking styles. Mutual respect is the key to authentic equality.