Naricah's story: Self-empowerment through education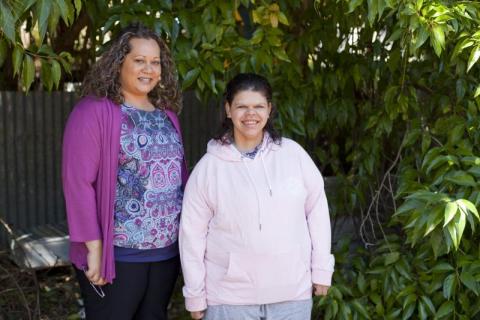 Supporting Australicis First Nations people and communities means working with them to create programs that can foster social and emotional wellbeing.
Naricah is a proud Darkinjung woman originally from Moree in NSW. After following her grandfather to the state's Central Coast region, she had difficulty fitting into a predominantly white community and felt overwhelmed and unhappy.
Upon returning to Moree, Naricah found Flourish Australia and its supports. Now, as a local peer support partner, she has helped people in the community better manage their own mental and physical health.
"My grandfather had a dream of connecting people to one another, to the community and their country," Naricah says. "It was always a dream I really identified with, and Flourish Australia helped me to achieve it."
"Many people in my community have struggled with mental health, but had no awareness of what was happening or what it was," she adds.
As a peer support partner, Naricah worked with two or three Aboriginal people at a time, she explains, "to 'close the gap' and help them take better control of their health. I now know my own experiences of hardship are what gave me resilience and shaped me into the person I am today."
"I use my story to help connect with other people," she says, "and to bring hope to children in Indigenous communities, by showing them they have the power to shape their lives and change the world."