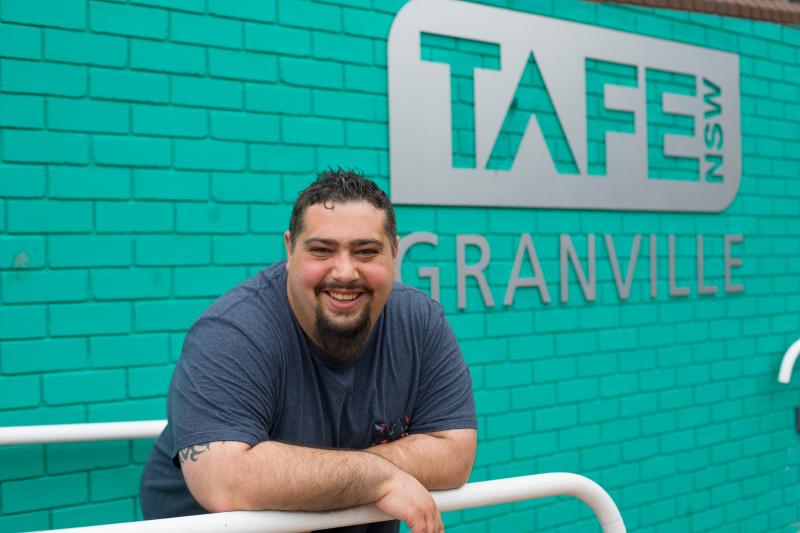 Proving to myself that I'm capable of achieving results, through my work with Flourish Australia, has been a big part of my recovery.
My work gives me purpose. I love that it's challenging and provides me with something constructive to focus on. Career success gave me courage to take the step to full time TAFE studies to become an electrician.
Flourish Australia calls me a success story. When I first joined their Harris Park warehouse I received training to work on the packaging floor. Then my interest in technology and a Cert 4 in IT qualified me for promotion to handling bonds and leases for the NSW Small Business Commission. 
I had always believed I'd join the airforce and that life would be easy but my dreams were put on hold when I experienced mental health issues. For years I lived in denial until using illicit substances led to a long term hospital stay where doctors challenged me to face the reality of my lived experience.
Having a job I love to go to each day made a massive difference to my recovery. I once avoided looking people in the eye because I felt I was looked upon as someone who needed to be cared for. Holding down a job helped me to grow in confidence and reclaim my independence.
Employment brings a strong sense of validation. I made solid friendships at work where everyone is willing to listen. If they ask how I am, they genuinely want to know and when I open up about what's going on for me, I'm supported without judgement. My manager, Mihaela, encouraged me by saying "this is not your forever job".
Knowing where I want to take my career now is a positive turn around for me. I'm so thankful to Flourish Australia for supporting me to get back on track with a future I feel excited about. The NDIS support coordination is especially helpful.
They truly care about your recovery.
Talk to us today
Our approach to supporting you is different because more than 50% of the people we employ have had their own lived experience of mental health challenges and many of them make up our peer workforce. They get it, because they have been there, so they're able to come alongside you with genuine understanding and insight. 
For more information, contact us on 1300 779 270 or make an enquiry now.