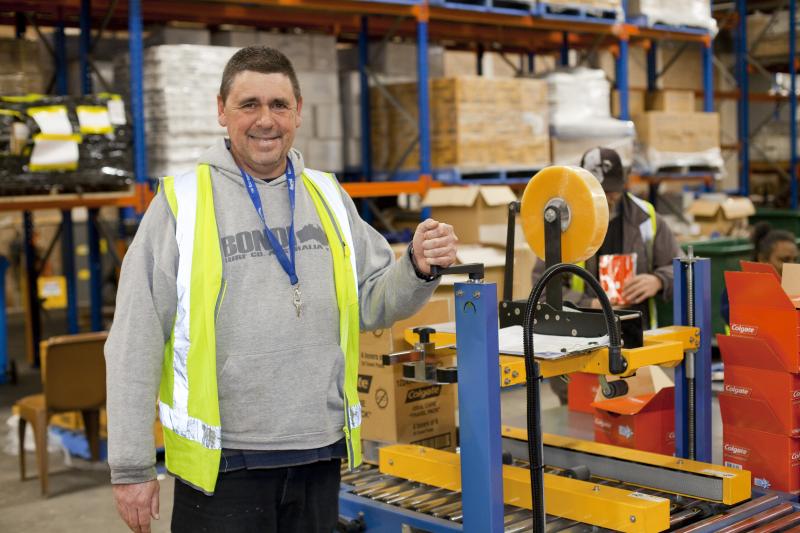 Feeling more connected to my community has come through the skills training, work opportunities and social connections I've been able to access with Flourish Australia. 
I'm lucky enough to live near Australia's iconic Bondi Beach where I bodyboard and swim all summer. Being an active and social person, Flourish Australia's Buckhouse drop-in centre really appeals to me. I get involved with bike riding, touch footy and yoga and found my way forward through the Pre-employ Program.
A friend told me about the work opportunities at Buckhouse. I started out as a waiter and soon progressed to kitchen assistant where I learned basic food preparation, then transitioned to the old Platform 10 Conference Centre in Redfern with a view to a hospitality career.  The wonderful thing about Flourish Australia is that if I ever need help with anything I can look to the peer workers who will walk me through it. 
When a job opened up at Flourish Australia's Prestige Packaging in Marrickville, I jumped at the chance to learn new skills and was able to complete a Certificate 3 in Warehousing through their on-site training program. Even after five years working here, I continue to develop new abilities. 
Since a peer worker showed me how to operate the kitchen, I enjoy working 2-3 days each week preparing the tea and coffee, taking morning tea orders, money handling and ensuring the kitchen is re-set for the next day.
The sense of purpose and focus I found through work was the motivation for me to become the representative for my region on the EAC (Employment Advisory Committee). It was rewarding to represent my colleagues in a professional manner and contribute to the decision making process.
Flourish Australia staff have always encouraged me to get involved with things that are meaningful to me and by doing so I've come a long way on my mental health recovery journey. I still experience anxiety but I've learned that, bit by bit, I'll get there. 
I am so much more connected to my community and have built a support network I can depend on. Maintaining these commitments and friendships has been an important part of becoming the happy, capable person I am today.
Talk to us today
Our approach to supporting you is different because over half of the people we employ have had their own lived experience of a mental health issue and many of them make up our peer workforce. They get it, because they have been there, so they're able to come alongside you with genuine understanding and insight. 
For more information, contact us on 1300 779 270 or make an enquiry now.