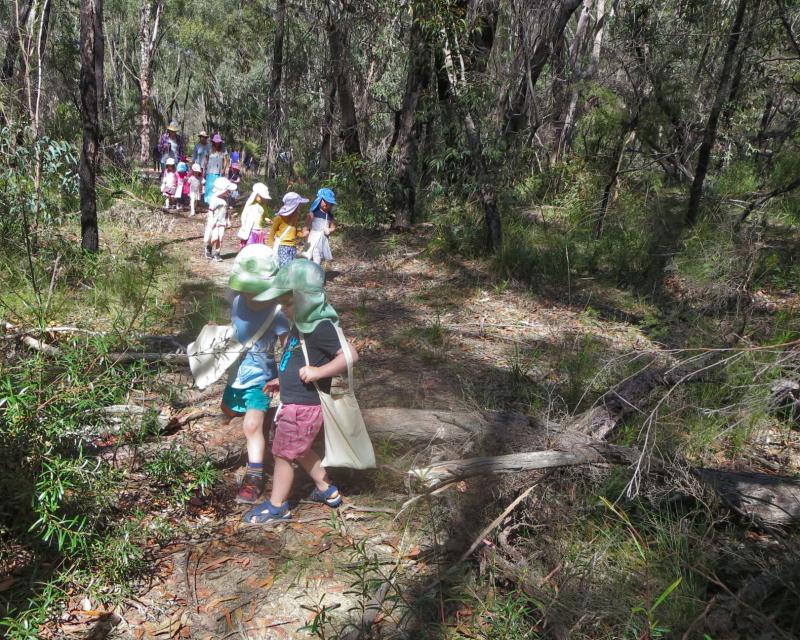 In the countdown to Christmas 2020, Wattle Glow Early Learning and the Blue Mountains Steiner School surprised Flourish Australia's Katoomba program with a generous gift of $1,740.00. The generous donation will lift the spirits of program participants, in the most challenging of years, letting them know that their mental health matters to the local community by making a difference in their lives at Christmas.
The funds were raised by preschool teachers Donna Hume and Emily Pospisil who felt moved to do something to support mental health in their local community in the wake of COVID-19. "We have seen first hand, the impact that the stresses of the pandemic has had on local families and our community as a whole," Donna says. "It was important to us to find a way to bring the community together and make a positive difference."  They connected with local business owners by personally popping in to ask for prize donations and received enough contributions to put together four beautiful hampers to raffle. Parents at their pre-school and primary school volunteered to sell tickets.
"We started out thinking it would only be a small donation but as community involvement grew, the whole thing snowballed and we were amazed by what we achieved together ." Emily says.
Flourish Australia's Katoomba Manager Charlene Del-Cet says the funds will be a much needed boost for the 49 people accessing supports who have endured a difficult year. The Katoomba team provide practical, everyday support to meet each person's individual needs, whether that means assisting them with grocery shopping, transporting them to medical appointments or arranging a social group outing to an art gallery.
"We always give them a little something at Christmas time but thanks to the generosity of The Blue Mountains Steiner School and Wattle Glow Early Learning, this year we'll be able to make a real difference to their experience of the holiday season." Charlene says. "It will mean so much to them."
The school's donation will make it possible to gather everyone together over Christmas lunch at a local restaurant. Connecting in this way is particularly meaningful for those who don't have family to spend Christmas with. Each person will also receive a supermarket gift voucher to assist with buying fresh food and other groceries. Additional vouchers for music and art supplies will be purchased, along with fresh fruit and vegetable hampers, to reward the winners of a walking challenge which was organised as a way of promoting physical wellbeing among program participants.
Known for our person-led approach to mental health recovery, Flourish Australia is committed to providing every opportunity for people with lived experience of mental health issues to live ordinary, even extraordinary, contributing lives in their community. We couldn't do what we do without the support of the communities we serve. 
"Our Katoomba office is very small and the number of local people seeking our support just keeps growing," Charlene says. "It means so much to us to feel so supported by a local school and preschool and caring community members like Donna and Emily. Gifts like this make a world of difference to the people who need hope the most."
Talk to us today
For more information, contact us on 1300 779 270 or make an enquiry now.