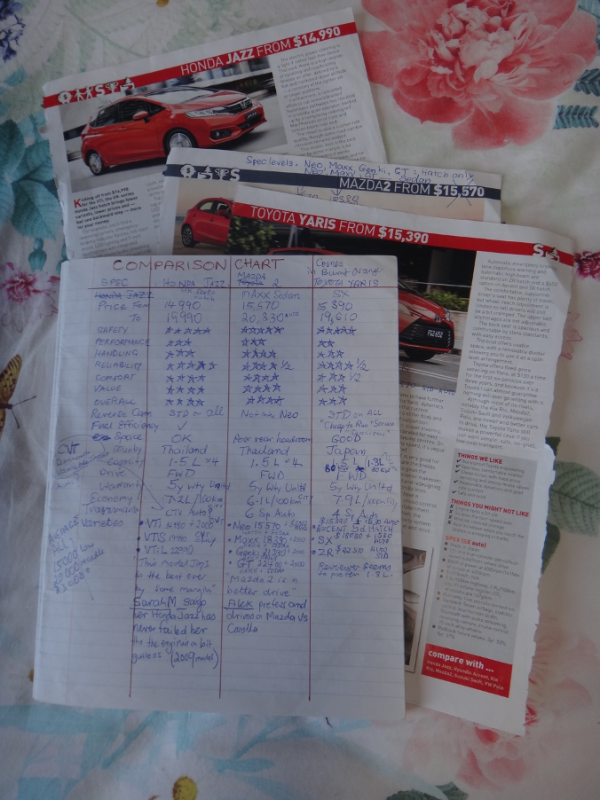 Picture: 'Spanner' is doing his homework and so should you when you plan to buy a new or used car
Putting together a well-researched comparison chart is one way to support your decision-making when considering the best car for you.
In previous stories we have looked at some of the benefits of having a driver's licence and the actual process of learning to drive. Some of you will want to take the next step and buy a car of your own. Here is a brief glimpse of what you might need to consider.
We take it for granted that what you really want is a Ferrari 812 Superfast, which costs around $610,000, but while you are saving for that, let's look at more practical options.
To begin with, it's a good idea to clarify in your mind what you intend to use the car for, what your purchase budget is and how much you can spend each week to operate it. It's also important to think about where you will stable the vehicle when not in use.
Who else will be using it? Do you have a family? Do you need four doors?  Is a big boot necessary or will a small hatchback do? When you think about it, the variables are endless so you really should devote some time to thinking about what you want, discussing it and (if you have one) gazing into your crystal ball.
We set this task to a fledgeling driver called Spanner who came up with a "comparison chart" as a way of making an informed decision about what to buy. The information he included in the chart was sourced from car magazines, manufacturer websites and by talking to car owners.
Based on the information gathered, Spanner narrowed his choice down to three cars within his price range. He wants a small car, but not as small as a FIAT Pop or Cube! He compared the Honda Jazz, the Mazda 2 and the Toyota Yaris. The "starting price" for each of these models, if purchased new, was about $16,000. However, once Spanner factored in the "extras" he wanted, including automatic transmission which is considered an "extra", each car would have cost around $22,000.
Spanner's number one concern is dependability. He is willing to compromise on comfort, handling and performance. One owner he spoke to told him that her Honda Jazz had never failed her. Another, who drives all day, said he prefers a Mazda 2. A road test magazine Spanner consulted spoke of 'bulletproof Toyota engineering' in relation to the Yaris.
Making the difficult choice between three good options may come down to a test drive.
By Warren Heggarty from Panorama Magazine
Talk to us today
For more information, contact us on 1300 779 270 or make an enquiry now.