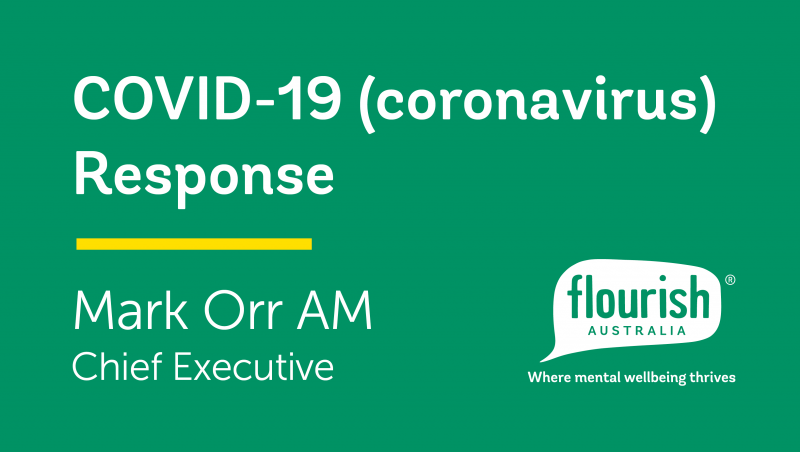 The COVID-19 situation continues to rapidly evolve. Flourish Australia is committed to ensuring the safety of people accessing our services, their families and carers, and our staff.
Containing the spread of COVID-19 is not just important for each of us personally, it is an investment in the health and safety of those who may be of poor health, including the elderly and sick in our communities. Each of us plays an important role in the public health response, and our personal actions can make a direct and real difference. 
The wellbeing of people accessing our services and our staff is our priority. 
Our services and supports continue to operate. 
However, they may change in format in response to Government and expert health advice. If you have any questions please contact your local Flourish Australia team.
For the last couple of months we have also been reinforcing the need for good personal protective hygiene, including regular hand washing, covering coughs and more recently, social distancing, including avoiding crowds, and close personal contact, such as handshakes.
Other measures to support people accessing our services include:
Introducing greater flexibility in the ways people can access support

Providing people with information and guidance in relation to prevention, health protection, social distancing and self-isolation, when necessary

Ensuring people know how to wash their hands effectively, for 20 seconds

Identifying those that need increased supports
  In relation to staff, we have:
Increased social distancing, including cancelling internal events and attendance at conferences to avoid large gatherings of people

Increased flexible work practices so people can work from home, can support people directly from home, and can use technology for meetings, amongst other things

Suspended all domestic and international work-related plane travel and travel between Flourish Australia sites as far as possible

Introduced Special Paid Leave for rostered casual staff should they need to self-isolate for 14 days.
If you are feeling stressed or anxious as a result of COVID-19 or for other reasons, please reach out for support. 
Our Senior Leadership Team is regularly reviewing and monitoring our responses to COVID-19, in line with advice from the Australian Government and health authorities. 
Please be assured that we are taking every measure possible to protect everyone's health and safety.  
Mark Orr AM
Chief Executive 
More information about COVID-19 can be found at the following links
Important contact numbers
National Coronavirus Health Information Line 

- 1800 020 080. This service operates 24 hours a day, seven days a week. 

Health Direct 

-1800 022 222 – for health advice from a registered nurse 

Translating and Interpreter Service 

- 131 450