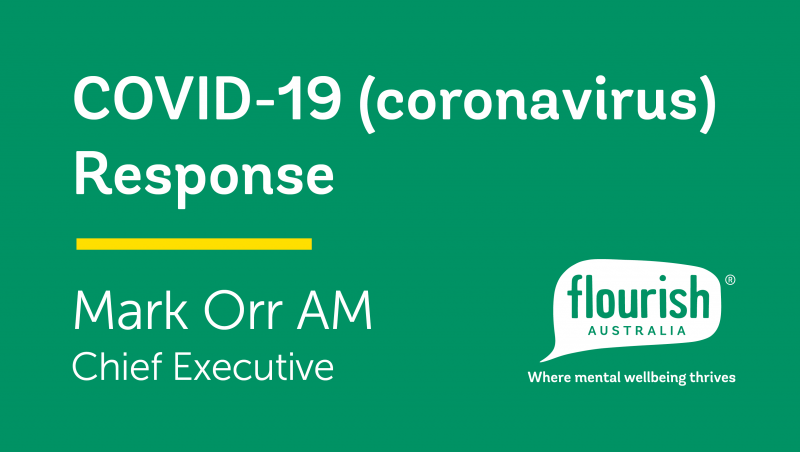 As Governments across the country began to loosen the restrictions on movement and interaction, Flourish Australia commenced planning to re-open sites and services. 
Our priority and core objective in this planning has been ensuring a COVID-safe environment for people who access our services, our staff and the community.
We have developed a COVID-19 Transition Plan to manage our safe return to sites and operations. 
The Transition Plan has 4-stages which will  see the gradual re-establishment of services, and the reopening of sites and offices. 
After much planning and preparation, Stage 1 of the Transition Plan commenced on 22 June 2020. 
Stage 1 includes the following : 
Staff will begin to work from sites and offices, but this will be limited to one day per week.
For staff to gain access to sites and offices, temperatures will be checked and they will complete health check-in questions.
Promotion of personal hygiene, physical distancing and covid-safe practices will continue and be enhanced.
Delivery of services to people accessing our outreach services at home or in the community will increase.
 Group activities, delivered at sites and offices, will continue to be suspended.
At this time external visitors will not be permitted at sites and offices. Accommodation sites and DES employment services are exempt from this requirement, and have their own COVID-safe arrangements in place.
Cleaning of sites and offices will be increased.
There is no set timeframe for how long the above arrangements will be in place. 
We will continue to follow Government and medical advice, and use that as our gauge for decision making about progressing to Stage 2 of the Transition Plan.  
Our priority is everyone's wellbeing and safety and we will continue to implement the plan with a considered and careful approach.  
As we begin to re-open we would like to thank people who access our services for their flexibility and willingness to be supported using telephone and technology of the last three months. Thank you also to the Flourish Australia team for their ability to rapidly change their approach to delivering supports (including some great innovations) and to continue to provide the supports people have needed. 
We are also grateful to our Funders for their support and flexibility.
We are very proud of everyone's efforts, and their commitment to staying safe.
Mark Orr AM
Chief Executive 
Talk to us today
For more information, contact us on 1300 779 270 or make an enquiry now.