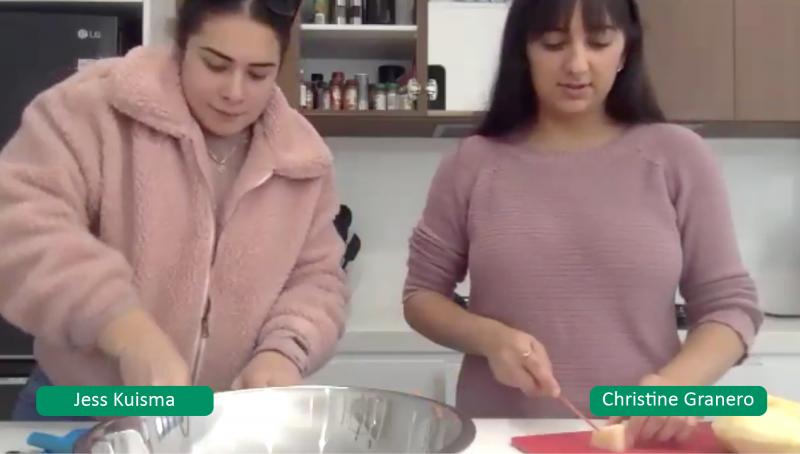 Christine Granero, Mental Health Worker
Being home alone is hard on a lot of people. Knowing this motivated my teams to become very creative around ways to make social interaction accessible to the people we support, throughout the pandemic.
Since the onset of COVID-19 a growing number of people are seeking our support. Most are looking for connection which is so essential to mental wellbeing. To provide people with opportunities to break the monotony of being home during lockdown, we developed all manner of virtual group activities such as meditation, music appreciation, collective cooking, art and crafts.
We've always offered onsite group activities but taking these online was a massive undertaking that called for a cohesive team effort.  I am so moved by the effort and enthusiasm every team member invested in getting this done while navigating transitions of their own. A great deal of planning and talking things through together was involved in making it happen; a task made all the more challenging for everyone while working remotely.
At the beginning, we rallied together with grounding activities such as sharing what we were grateful for. The experience has been different for each of us. Some staff shared concerns about balancing workload with home schooling. Others who live alone felt confronted by no longer having a workplace to go to each day. It's been healthy for the whole team to keep sharing this way even now that we're able to be back in the office on rostered days, with physical distancing.
Shared experience has made Music Appreciation via ZOOM one of our most popular online groups. Participants take turns sharing a song of their choice then offer insight to why they chose it and the meaning it has for them. It's a great way of getting to know one another really well while exploring a variety of music genres.
Live-via-ZOOM cooking sessions have been equally well received. These came about after I sent an email out to the HASI team, asking whether anyone might like to help me cook. The response was fantastic!
We put together a recipe booklet of easy-to-make meals so that everyone can follow the steps as we cook and chat. We generally stick to healthy ingredients, though it's nice to occasionally do a delicious dessert.
Preparing a meal together is such an enjoyable way of connecting and picking up practical kitchen skills while we have the time on our hands to do so.
We've encouraged people to get busy with their hands and practice mindfulness through an online arts and crafts group. Participants respond positively by opening up about what's going on for them as we create and colour together. Some find the reflection exercises helpful for managing anxiety while others like to express their emotions artistically.
For the people who are not so tech savvy and perhaps don't even own a computer or mobile phone, we've maintained outreach individually while observing physical distancing. We are working toward delivering some of the new socialisation activities, like cooking classes, as on-site groups once this is possible.
Our intention in becoming more innovative with service delivery is to support people to stay connected with one another and identify positive outlets for what they are feeling. The pandemic has taught us to fully appreciate how valuable it is for each of us to have opportunities for face-to-face interaction with others.
Talk to us today
For more information, contact us on 1300 779 270 or make an enquiry now.