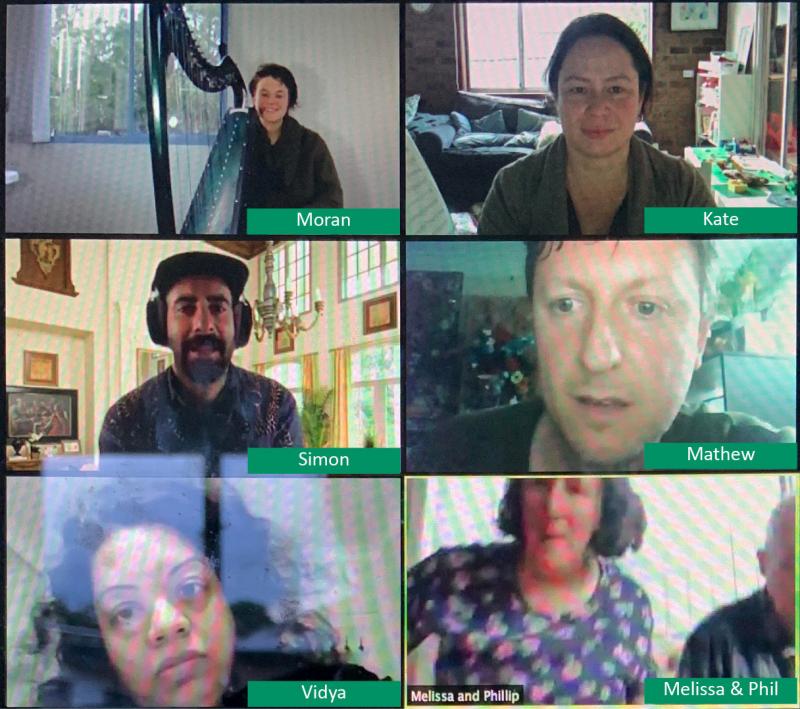 Picture: A Sound Life (ASL) session via Zoom
The Buckhouse team are enriching relationships with a simple tool called "My Story, My Life" in the process of bringing more choice to smaller groups.
Donna Shrubsole says:
Socialising is a fundamental part of what people look for from us. We've prioritised finding ways for this to continue by adapting our drop-in structure.
As soon as lockdown became likely, we contacted all members and found that few were set up for Internet access. Staying accessible came down to phone conferencing and outreach. The team discussed our individual strengths which gave rise to wonderful new opportunities for members.
Krissy generally focuses on NDIS but is a real people person and right into healthy living. She started Monday Meditation via phone conference and has taken on walking one-to-one with people to encourage regular exercise. Based on our popular Relationships and Hearing Voices groups, facilitated by our student Giulia, Kate has started a Friday Lunch Chat phone conference. Some new, non-members have called in for support while others, who find it daunting to turn up to a group for the first time, say that being able to try it from the familiar environment of home is a welcome development.
Our Mental Health worker Ceda is also personal trainer. He had been overwhelmed by the number of people using our gym and has embraced scheduling one-to-one training, walking and exercise sessions. Sean volunteers IT expertise for our Tuesday Tech group and can offer individual support when needed because he is a registered NDIS provider.
As we don't have funds for a yoga instructor, we organised one through A Sound Life (ASL) for Thursday afternoons. This lovely volunteer group are about transforming lives through the healing power of music, yoga and meditation and also run our Tuesday music session, where you can join in popular songs.
As members become confident with remote access, we'll be set up to offer more choice for things they can do.
The restructure reminds us that the difference in what we do is that it's never just about meeting practical needs, like getting people to appointments. We use that time together purposefully by socialising as we go about our business. It's a more natural process for someone to open up when you're engaged in an activity together, side by side, instead of sitting face-to-face in a clinical setting.
It does demand a lot of us to draw people out over the phone and we may be working this way for months, so we need to go deeper than just asking "what did you do this week?". I've introduced a simple tool called Your Story, Your Life, based on an idea I once explored with a counselling student. For her assignment, I suggested that interviewing a member, who had lost his wife after years in the system together, might be a rewarding journey for them to take together. She formulated questions such as "why did your family choose the name you were given" which I formatted into a questionnaire. Over 12, weekly chats, they collated a beautiful book about his life with pictures including the first house he lived in.
Implementing this approach has enriched our relationships. Fin, who runs outreach with people in group homes, is also a screenwriter. He uses it to quickly move conversations beyond the surface with people who find it challenging to concentrate for long periods of time.
One member, who rarely attends groups, is surprised how much she now looks forward to our weekly chat. The questions led us to appreciate how much gratitude she has for her life. They have a way of lifting people out of identifying with their circumstances by sharing the many unique aspects of their life.
Talk to us today
For more information, contact us on 1300 779 270 or make an enquiry now.