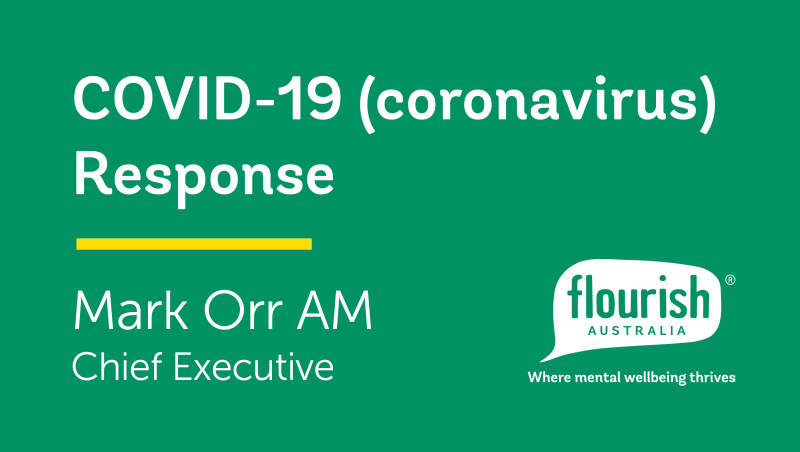 I wanted to reach out to you to let you know that Flourish Australia has decided that we must suspend the operations of our drop-in centres and group-based programs.
This is due to growing concerns about the transmission of coronavirus (COVID-19) in the community, and is consistent with the Australian Government's advice to the community to reduce being out in public and meeting in groups.
Flourish Australia will, however, continue to provide people with support.
Our centre-based services and group activities will transition to supporting people one on one through in person support, telephone calls; phone messages (SMS); and e-mail. We will redirect calls to staff to enable them to provide support one to one to people, instead of in a group or at the drop-in centre.   
With coronavirus being able to be transmitted by being in a closed space with other people for a reasonable period, we think this is a safer way to provide supports for everyone.
This week, we have been talking personally to everyone who accesses our centres and our group-based activities preparing for these changes. We have also been checking on whether people have access to a telephone or technology, and how we might support them in a new way. These conversations have gone very well.
We have also taken this opportunity to check in with people about their health, their access to food and toiletries, and to discuss other practical ways we can provide support. 
From Friday 27 March our centres and offices will not be open to the public. 
Please be assured that Flourish Australia is committed to continuing to support people through this challenging period.
Mark Orr AM
Chief Executive