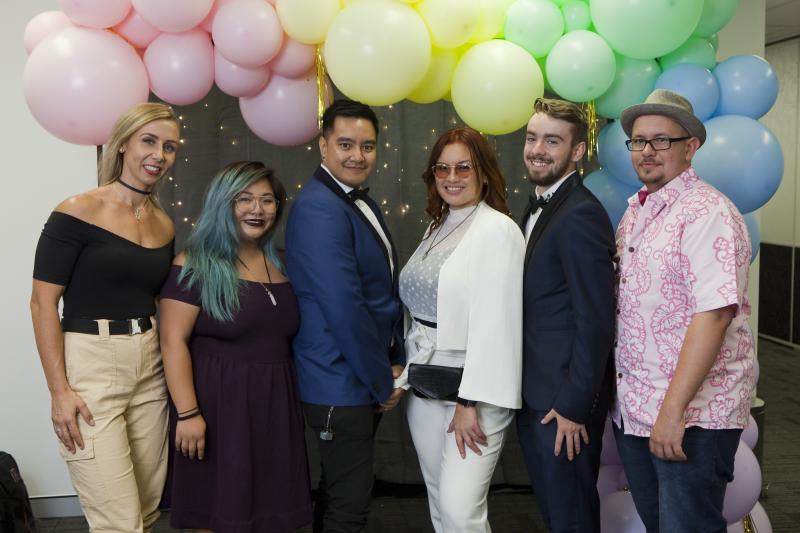 As many as one hundred young people living with mental health issues from across Sydney and Newcastle have lived it up at an event they never expected to attend – a graduation-style formal evening.
Believed to be a first of its kind in Australia, the inaugural Flourish Australia Youth Formal Evening at Sydney Olympic Park has given socially disadvantaged participants a chance to experience a glamorous formal soiree - a rite of passage for most young people.
Because of mental health struggles and other issues including domestic violence, family breakdowns, homelessness, drug and alcohol abuse and early school departures, the invited participants have never had an opportunity to participate in such an event.
Aged between 16 and 24, the past and present clients of Flourish Australia were encouraged to attend the gala evening to build self-esteem and experience 'stepping out'.
It's also an opportunity for participants to connect with like-minded people and enhance their social skills – a key to mental health recovery.
The dress code was 'freedom of self-expression' to aid inclusivity: some people were dressed in formal wear, while some chose street wear or casual day-wear.
Numerous organisation's and individuals chipped in to make the evening a success. A variety of donators supplied clothes. Students at Mt Druitt TAFE oversaw hairdressing and make up requirements. Other voluntary contributions included a gleaming stretched Hummer and driver tending to red-carpet drop offs, a professional photographer ensuring everyone had memories of the night and a well-known DJ who got the crowd moving. A major bank and developer provided cash donations to assist with catering and other costs.
Flourish Australia CEO Mark Orr said the event was a fit for the organisation's objective of giving those it supports confidence and motivation to lead independent and fulfilling lives in the community.
"Many of the invitees are fighting their way through untold hardship and sometimes tragedy, meaning they've missed out on milestone events such as formal nights.
"We're giving them a chance to enjoy a fantastic stepping-out evening, an occasion where they can feel special and reflect on who they are and what they might achieve in the future.
"It's a morale-lifting event with underlying themes of inclusion, hope and optimism which are essential when you're undergoing a mental health recovery journey.
"The excitement in the lead up to the evening might even outdo the evening itself."
Jake Mooey, who lives with depression and who struggled with family and schooling instability since he was 13, said it was the first time he'd attended a formal evening.
"It's been something to look forward to and something I'm excited to be a part of," Jake said.
"I missed out on stuff like this when I was growing up so I feel like I'm catching up on something important."
Jesse Bansgrove, who lives with anxiety and depression, addressed the guests at the function. After multiple bouts with mental unwellness and hospital admissions, Jesse spent two years under a Flourish Australia recovery program and has since managed to turn her life around.
"The simplest things are often the keys to wellness when you have mental health problems," Jesse explained.
"Isolation and feelings of not belonging are the biggest curses, so mixing with other people and keeping busy with every day activities is important.
"Being invited to a formal evening is beyond the dreams of many of the invitees and a massive morale booster. The invitation makes them think 'I'm included, I'm someone, I might have a future'".
Flourish Australia said it was looking at making the formal evening an annual event for its young clients.
For media enquiries, contact Matthew Watson on 0417 691 884.