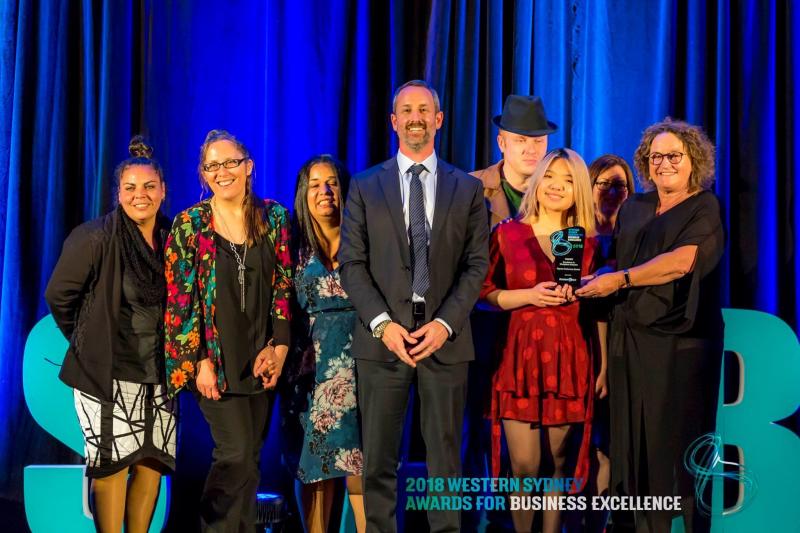 Australia's premier hospitality training centre for people with mental health issues is on a reputation roll, having won the Excellence in Workplace Inclusion at the Western Sydney Awards for Business Excellence.
Staff of Flourish Australia's Figtree Conference Centre were presented with the award before an audience of 700 business leaders at Rosehill Gardens Racecourse, with NSW Premier Gladys Berejiklian and Opposition leader Luke Foley in attendance.
The award acknowledges the extraordinary effort Figtree Conference Centre puts into providing job and training opportunities for people who have a lived experience of a mental health issue – people who may otherwise struggle to find employment.
"This recognition is a tremendous shot in the arm for everyone involved with Figtree Conference Centre," Manager Sue O'Rourke said.
"We change the lives of people who are often vulnerable and marginalised and find it hard to get a job or forge a career. We provide them with training and mentoring, a career direction and senses of meaning and purpose.
"One of the biggest keys to mental health recovery is meaningful employment and mixing with other people, and that's on offer in spades at Figtree Conference Centre.
"It's a thrill when we see people leave here with the knowledge and confidence to find their own way in the open employment market."
Since opening in 2013 the purpose-built Figtree Conference Centre at Sydney Olympic Park has hosted more than 1,100 meetings and events, including corporate and not-for-profit gatherings and exhibitions.
Figtree Conference Centre competes in the open market with other top-line conference facilities across Sydney. Profits are fed back into the enterprise to assure the centre's long-term viability.
Figtree Conference Centre complements a suite of employment enterprises and businesses delivered by Flourish Australia, which currently has more than 300 supported positions across the Sydney metropolitan region.
Flourish Australia is a not-for-profit organisation providing recovery focussed support programs, accommodation and hope for more than 5000 people with mental health issues in New South Wales and Queensland. Advocating community-based assistance, it is a leading mental health support provider that has been in operation for 60 years.
Anyone with a lived experience of a mental health issue wanting to apply for a job at Figtree Conference Centre or other Flourish Australia businesses should contact Clare Evans on (02) 9393 9035, Sue O'Rourke on (02) 9393 9051 or Vocational Services on (02) 9701 3600.
For media enquiries, contact Matthew Watson on 0417 691 884.