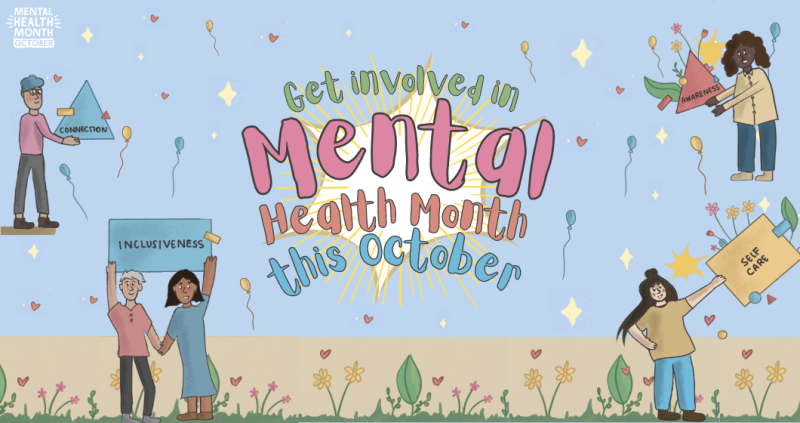 We all have a role to play when it comes to busting mental health stigma. That's the theme of this year's Mental Health Month, which urges us all to keep mental health and wellbeing front of mind. Throughout October, and all year round, we're encouraged to look out for our own and others' mental wellbeing at work, school, home and in the community.
Stigma about mental health and illness traps people in silence and shame and stops them from seeking help. Help us bust the stigma and show your support at various Mental Health Month community events, including:
With the team in Newcastle, where you can have a chat, coffee and browse market stalls. The event will be held on October 4, from 8.30am until 10.30am, at 627 Hunter Street.
At the Snowy Valley Community Fun Day, featuring live music, delicious street food, arts and crafts as well as wellness stores and giveaways. The event on October 14 at the Tumut Showgrounds runs from 10am until 3pm on Saturday.
Flourish's annual art exhibition at its Newcastle Centre (627 Hunter Street) on October 20 from 3pm until 7pm.
Artworks will also be displayed in Wollongong from mental health units across the Illawarra. The New Outlook exhibition opens on October 20, running from 5pm until 8pm, and will also be open to the public from October 23 to 26, between 10am and 2pm.
You can also join Flourish Foundation Ambassador and Associate Professor Simon Rosenbaum for a virtual workshop aimed at tackling barriers to exercise to move your mood on October 27. Register for the free webinar, running from 12.30pm until 2pm, here. 
There are so many ways to support each other this Mental Health Month, including the UN's World Mental Health Day on October 10. Find out more about how Flourish can support you with day-to-day living, the NDIS, work and more on 1300 779 270 or here.
Talk to us today
For more information, contact us on 1300 779 270 or make an enquiry now.