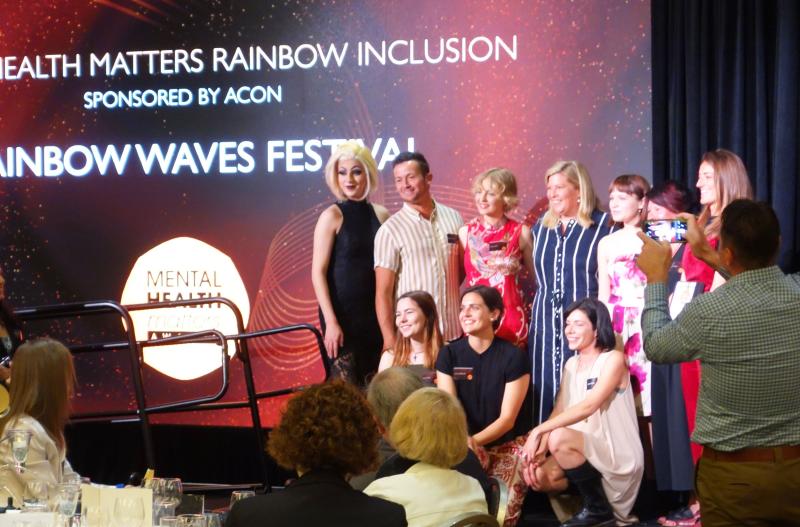 Flourish Australia's Transgender Transitioning Policy received a commendation at the 2019 annual Wayahead Mental Health Matters Awards held at the Shangri-La Grand Ballroom, Sydney, on 27 September. Without exception, winning entries involved creating or improving communication and connections between people – something at the heart of Flourish Australia's focus on Social Citizenship. 
We want everyone associated with Flourish Australia to be able to be who they are and to be treated with dignity and respect. We are committed to creating a trans-friendly culture that is free from discrimination and harassment.
Dr Jonathan Ho, a GP from Wagga Wagga was a popular winner of the NSW Mental Health Commissioner's Community Champion Award. Dr Ho says he actually feels gratitude when he exercises the 'privilege' of listening to patient concerns. 
In his acceptance speech, before NSW Minister for Mental Health, The Hon. Bronnie Taylor, MLC, Mental Health Commissioner Catherine Lourey and over 200 representatives of the sector, Dr Ho gave an interesting analogy with a symphony orchestra. The patient should be the conductor, he said, coordinating all the various instruments (services) to play together according to her own needs.
A latter day Beau Brummell, Dr Ho's hobby is tailoring and he appeared in a silver grey suit of his own creation.   
One member award panel told us 'it was so hard to judge' this year. 
The other seven Award Winners were the Rainbow Waves Festival on the NSW South Coast (Rainbow inclusion award sponsored by ACON), Jewish Care's Suicide Prevention Strategy, The Freelance Jungle (supporting the mental wellbeing of self employed people), Fling Physical Theatre (who won the youth award), Gunida Gunyah Aboriginal Corporation at Gunnedah, Dr Katherine Gill (for lived experience leadership), and Mission Australia's Far West Program.