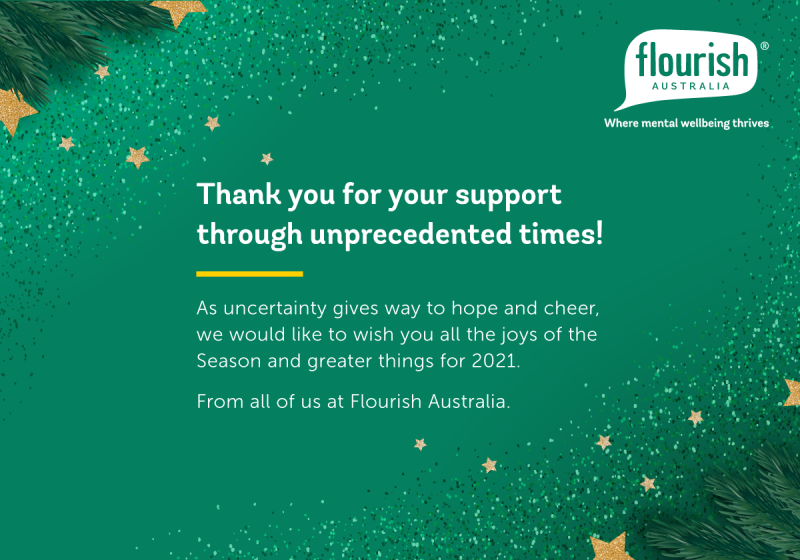 As we look with hope to 2021, it's important to reflect on the strength of the connections that have seen us through a year like no other.
2020 has been tough! Reflecting on all that has happened during the year, my gratitude goes out to each and every person connected with Flourish Australia. You have made it possible for us to remain focused on providing support to people and played an important part in making the year positive, overall.
People with lived experience, their families and carers placed their trust in us this year to work through significant changes to the supports delivered, and we overcame extraordinary challenges together.
The commitment of Flourish Australia's Community Advisory Council shone through. They embraced technology and kept us informed of the supports people needed. They challenged us to do more in relation to technology delivered supports.
I could not be prouder of the Flourish Australia team. Their positivity and determination to keep reaching out to people, and doing so in new ways, under very difficult conditions, has been an inspiration. The clear communication and guidance of the Senior Leadership Team and Board have helped us to navigate the challenges safely and successfully.
Flourish Australia has greatly appreciated the contribution of our Community Business partners to the work we do. The ongoing work they have provided has given much needed job security for many supported employees.
We thank our funders for their important support this year. Their flexibility and partnership with us has made it possible to support people effectively, in person and using technology, and in COVID-safe ways.
A massive thank you also to our generous donors for the difference you have made this year, including Schroders, whose fundraising efforts have set wheels in motion on new facilities for our Women & Children's Program; and the Blue Mountains Steiner School, whose gift will help us surprise people in ways that show them their community cares.
For many of us, this holiday season will look very different to other years, but it is still a time to rest and enjoy the sunshine. This Summer, I hope you can do what brings you joy.
Throughout the period, let's make a special effort to stay connected. Reach out to your friends, family and others in your community.
And, stay COVID-safe.
Here's looking forward to a New Year of promise – whatever that looks like for you!