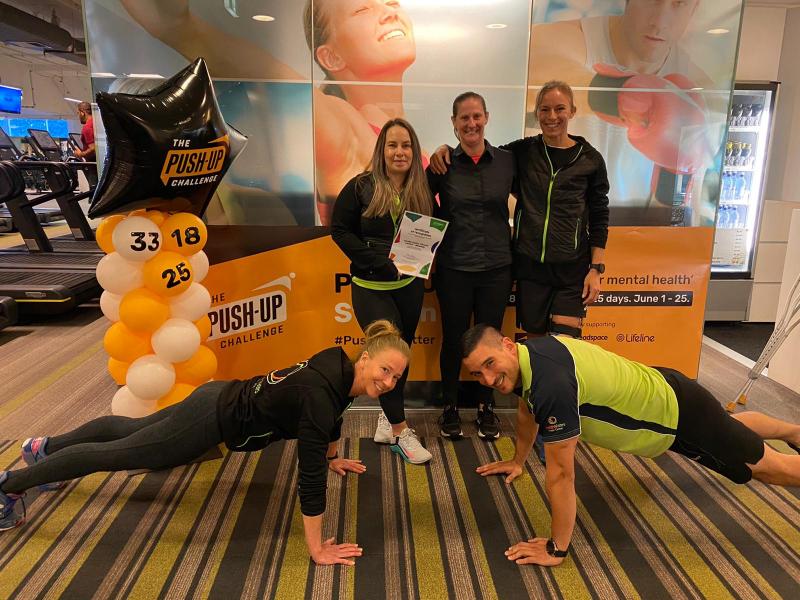 In June 2021, headspace Bankstown so successfully motivated locals to take part in Australia's biggest mental health and fitness event, The Push-Up Challenge, that together, they far exceeded target expectations and raised a massive $19,251 for local mental health services. Here's how they did it, according to Service and Community Development Officer, Marwa.
The Push-Up Challenge is Australia's largest mental health and fitness event and we set out to make an impact by participating. We never imagined how completely we would smash our fundraising target, based on last year's total of around $2,000 raised.
Local community involvement has been the key to our incredible success. This year, we branched out through lifeline, as well as headspace, to engage as many locals as possible. This led to many generous community members getting involved, by making donations, doing push ups, or both!  Three major donors were Sefton High School, UFC Gym at Bankstown and Healthmates Gym at Revesby. With the support of the school's highly motivated prefects, and two wonderfully pro-active gym owners, we encouraged as many students and gym members as possible to get involved by committing to each complete 3318 push-ups within 25 days. This figure represents the number of people who lost their lives to suicide during 2019.
We scheduled presentations with each donor groups, to explain what the challenge was all about and inform them about who headspace is, what we do, and how the money we were asking them to help us raise would make a difference to the local community.  Happily, this inspired them all to invest a great deal of effort into promoting participation, through on-site exposure and social media call-outs. Social media proved to be a very effective way of driving engagement while raising awareness around mental health and suicide prevention.
Everyone who took part is beyond excited to have contributed to raising such a significant amount for mental health in our community. The headspace team have consulted with our Youth Reference Group, comprised of young people aged 16-24, to determine how best to use this money for suicide prevention and awareness. Early intervention and prevention is our focus and we have discussed ideas such as providing vulnerable young people with self care packages, containing sensory items and mindfulness material, to help boost their resilience in practical ways.
Bringing hope to more than 870 young people in our local community last year alone, headspace Bankstown's programs operate under lead agency Flourish Australia, who support the recovery journey of more than 5,000 people with complex mental health issues, each year.
It is amazing to think that so much money was raised for mental health by the 231 individuals who together completed a staggering 377,644 push-ups on our behalf. We are so grateful to every single person who got on board with us and we look forward to seeing the fruits of what the funds raised will do to improve awareness and outcomes for those at risk of suicide.
Would you like to fundraise for Flourish Australia? Click here to set-up your own fundraising page
Talk to us today
For more information, contact us on 1300 779 270 or make an enquiry now.