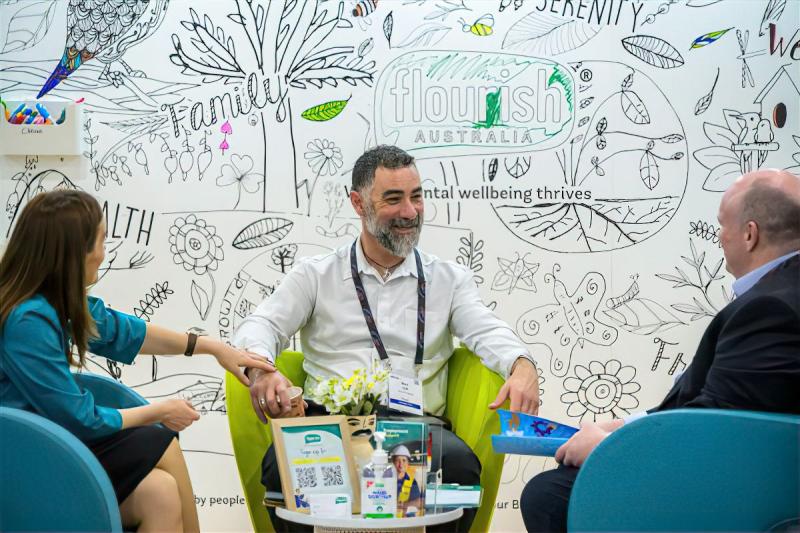 Ensuring human rights are at the forefront of mental health access, services and treatment has brought leading practitioners, researchers and experts from Australia and New Zealand together in Adelaide.
Flourish Australia, a national leader in peer-led mental health recovery, was the platinum sponsor of this year's four-day Mental Health Services (TheMHS) Conference (August 15 – 18).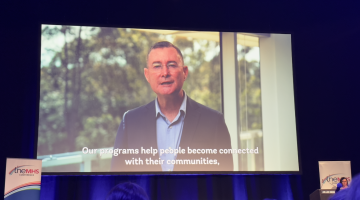 The conference at the Adelaide Convention Centre allowed mental health practitioners, advocates and services including Flourish Australia to exchange ideas, research findings and information about best practices. This year's theme was "making rights real – bringing humanity and human rights into mental health". 
Flourish Australia team members, including people accessing supports, presented a number of papers at the conference, including about how to ensure the voices of people with lived experience were at the forefront of mental health research. 
Senior Research Evaluation Coordinator Emily Hielscher said it was not enough to simply give people a seat at the table, and that they must also be equipped with the tools to succeed.
"The community members on our committee are really key drivers and part of the decision-making process in all aspects of search that we do," she said.
"Inviting people with lived or living experience onto this committee, really, absolutely does improve the quality and relevance of the research. I also think it better protects the basic human rights of the people the research is designed to support.
"It really challenges us to better communicate research in a way that's more inclusive and jargon free. And, finally, [I] just wanted to emphasise [that] it makes us humble. We really don't have all the answers and the best work is done together, inclusively."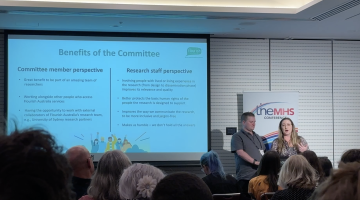 Community Research Advisory Committee (CRAC) member Michael Wren spoke about how important it was to know that his lived experience was valued.
"When it comes to a support worker asking me if I want to take part in something, knowing that my voice does matter," he said.
"And on the research side of things as well, just knowing that it's a welcoming environment."
Mr Wren also detailed his experience participating in a research project with the University of Sydney and Flourish Australia about the design of a personalised mental health recovery app, Driv-R.
"My views … have been taken into how it needs to be delivered to people with a lived experience, and people with mental health [experience] tend to create that conversation," he told the conference. 
Other presentations included the introduction of Flourishing Rainbow's Group, how to redefine employment from a mental health recovery perspective, and about the importance of community and peer leadership. 
As well, Flourish Australia hosted an interactive stand featuring a wellbeing zone including a colouring-in wall and massage chairs. This provided a warm and welcoming space for people to learn about how Flourish Australia can help. 
We are committed to empowering people to manage their recovery and reach their full potential. It's worth noting that our expansion into South Australia further demonstrates our commitment to extending our services to new regions. Our participation in TheMHS Conference allowed us to showcase our initiatives and provided an excellent opportunity to connect with individuals and organizations in South Australia's mental health community. 
Talk to us today
For more information, contact us on 1300 779 270 or make an enquiry now.