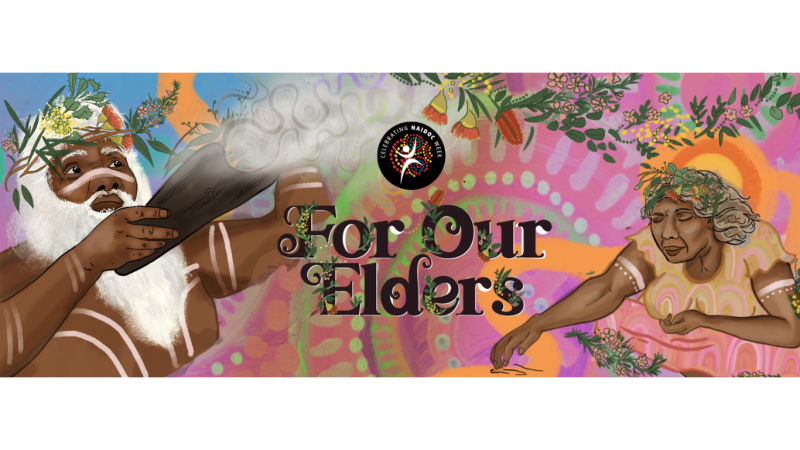 From family fun days and festivals to exhibitions and unique cultural experiences, you'll find no end of ways to share in honouring Our Elders during NAIDOC Week 2023, from 2- 9 July.
It's our turn to show-up for the knowledge keepers, trailblazers, teachers, leaders and advocates who have always been and always will be, the heart and soul of our First Nations communities. For Our Elders is the theme of NAIDOC Week 2023 and there are so many ways to get involved. Visit: https://www.naidoc.org.au/local-events/local-naidoc-week-events
The very paths we walk today are there because of Our Elders. 
Our Elders, those who have gone before and continue to watch over us, and those here with us, day to day, hold a prominent place in Indigenous culture, heritage and lived experience. Generation after generation, we look to them for inspiration and encouragement that lifts us up when we are feeling low. We feel their presence affirming us in our finest moments, and guiding us when the best way forward seems unclear.
For young people in particular, Our Elders are a great comfort, providing nurturing as well as a word of wisdom to pull us into line when needed. Wherever we are at in our lives, they are right here, in it, with us as we strive to find our place in the world. And staying connected with them reminds us to feel proud of both our unique identity, and our belonging to family and community.
We can draw strength and understanding from Our Elders lifetime of experience with managing the land, keeping cultural knowledge alive, and standing for justice and human rights. Their profound influence is seen in every aspect of our lives, from health and education to arts, culture and politics.
The struggles Our Elders were willing to take on have opened doors to us today and in their determination, we can find our own passion to continue to fight for what is right and what is ours. 
Let's be guided in our decision-making by their learnings and sharing as we create an even better, more inclusive, future together. 
How will you reflect on, and pay your respects to, Our Elders this NAIDOC Week?
Check out what's happening here https://www.naidoc.org.au/local-events/local-naidoc-week-events or make your own event happen! 
The Flourish Australia family wishes everyone a wonderful NAIDOC Week of coming together For Our Elders. 
------
If your lived experience is holding you back from working out where you belong in life, or how to get to where you want to be, Flourish Australia is here to help. 
Talk to us today
For more information, contact us on 1300 779 270 or make an enquiry now.