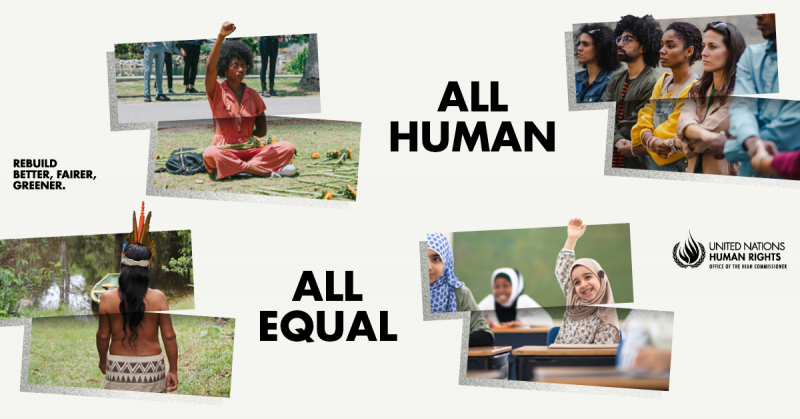 This Friday is Human Rights Day. 
Held on December 10th, Human Rights Day commemorates the anniversary of the 1948 Universal Declaration of Human Rights (UDHR). The declaration is now one of the most widely available documents in the world, having been translated into more than 500 languages. 
While major advancements have been made globally since that declaration was signed, 2021 Human Rights Day highlights the work that still needs to be done. The Declaration serves as the basis for an expanding system of human rights, that particularly focuses on groups that have been vulnerable to discrimination, like migrants, women and girls, indigenous peoples, LGBTI people, and people with disability. 
This includes the principle for the protection of people with mental illness, which was adopted in 1991. This asserts that it is a fundamental free and basic right to have access to the best available mental health care, and those with experience of a mental health issue shall be treated with humanity and respect. It also asserts that people should not be discriminated on the basis of mental illness and people are to be protected from exploitation and harm. This is important because people living with a mental health issue can be vulnerable to human rights' violations.
This year's theme for  Human Rights Day is 'Equality', and Article 1 of the declaration states "All human beings are born free and equal in dignity and rights." 
Equality "means that we embrace our diversity and demand that all be treated without any kind of discrimination," says UN Human Rights High Commissioner Michelle Bachelet. By focusing on human rights, we can zero in on root causes of conflict and crisis, address grievances, and ultimately eliminate inequality and exclusion. 
Flourish Australia is committed to the human rights of all people. We recognise that there are different challenges individuals and communities face, but we believe that for people to flourish, the whole community needs to embrace and advance social citizenship. Put simply, social citizenship is about inclusion for all, and ensuring people have the opportunity, and ability to engage and contribute to their community. 
Our commitment to this is evident in our recovery-focused, person-led support. We value lived experience and more than 50% of the people we employ have had a lived experience of a mental health issue. Each day we support thousands of Australians to grow, learn, and exercise fully their capacity to live their lives, as is their human right.
Talk to us today
For more information, contact us on 1300 779 270 or make an enquiry now.