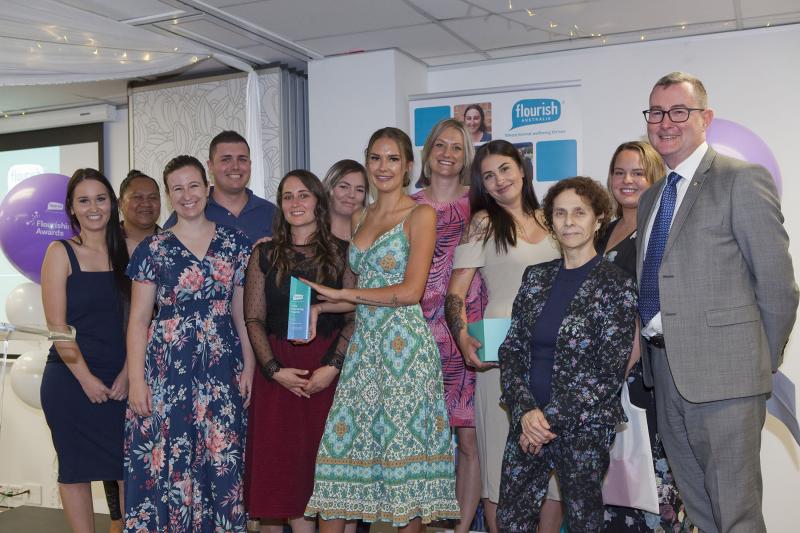 Flourish Australia, a mental health service provider for psychosocial disability, held its inaugural Flourishing Awards to recognise employees and teams who exemplify the organisation's values and show a genuine commitment to mental health recovery.

"The Flourishing Awards is introduced to celebrate the contribution of our teams and individual staff members made to the organisation," said Mark Orr AM, Flourish Australia's CEO. "We also decided that we needed to start recognising the length of services of some of our team. Tonight, we are recognising people who have been here for 25 years and 15 years which is a great contribution to the organisation."
In order to receive an award, individuals and teams must first be nominated by their colleagues or the people who access Flourish Australia's services. A judging panel comprises management team and Community Advisory Council reviewed and selected the winners.
"You can't understate the value and importance of the staff - what they do and what they bring. Without the good staff we have, we won't be able to provide the services we do and I think recognising those people who gave beyond and excel in their work is a just small thank you for the good staff we have," said Tim Fong, HR General Manager and one of the judging panels. 
The recipients received the award at Figtree Conference Centre, a social enterprise of Flourish Australia, presented by Mark Orr and Professor Elizabeth More AM, Flourish Australia's Board Chair. The celebration was also joined by other board members and the award recipients' family and friends.
The Flourishing Award recipients are…
Individual Award: Natasha Jones, Senior Peer Worker at Waratah CHAS
Team Award: Team Windsor, Madeline Antonelli, Yvonne Hartmann, Joe Moore, Faafetai Chown, Cassandra Turnbull, Brooke Turner, Liam Ford, Maddie Campbell, Kristi Mapp, Louise Doyle, Maddie Friend and Laura Myers. 
Highly Commended 
Individual: Brooke Turner, Mental Health Worker, Katoomba 
Team: The Marrickville Clean Room Team – Victor Pondikas, Maria Malheiro, Adam Parker, Matthew Chen, Mark DeVires and Darren Hobourn.  
Length of Service recognition 
Carla Pineda: Senior Mental Health Worker, Kogarah/Sutherland – 25 years 
Rynnette Gentle: Manager, Broken Hill (Bourke and Cobar) – 15 years 
Martin Wadick: Mental Health Worker, Moore/Malleny Streets – 15 years 
For more information, contact us on 1300 779 270 or make an enquiry now.