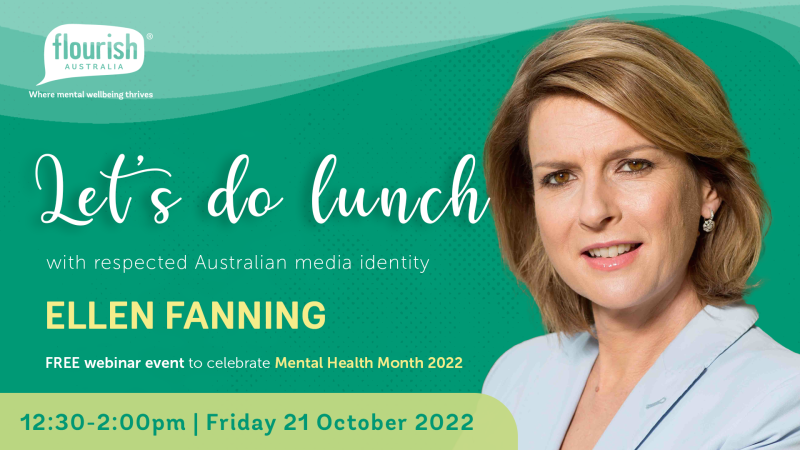 Free Webinar Event - Friday October 2022 from 12:30pm-2:00pm
Let's Do Lunch with respected Australian media identity Ellen Fanning and hear her thoughts on Mental Health In The Media! You can register online now for free, to be part of this exciting webinar event hosted by Flourish Australia, in celebration of Mental Health Month 2022.
In Australia, more than 800,000 people are living with a complex mental health issue. The vital work that Flourish Australia does has shown that recovery is possible. With the right support and opportunities, people with lived experience can completely transform their lives and flourish in their communities.
Unfortunately, this message is seldom shared in mainstream media. Instead, the message on mental health is often stigmatised and centred on the crisis. To explore this trend, Flourish Australia has invited Ellen Fanning to talk with us about how complex mental health is portrayed in the media from an insider's perspective, and ways we can make positive changes to give our message of hope, recovery and possibility a voice.
About our award-winning media guest
Ellen Fanning will be a familiar face to many of our webinar guests, best known for her work as an award-winning current affairs journalist, most recently as reporter for the Nine Network's 60 Minutes and Sunday programs. With a lifetime of experience in communications, politics, social, cultural and business issues, her insights to Mental Health In The Media are well informed and based on extensive industry experience and knowledge.
Ellen broke new ground in the Australian media industry at the age of 24, when she became the first woman to host one of ABC Radio's national current affairs programs. Two years at the helm of PM were followed by several years anchoring AM radio and serving as occasional host for ABC TV's 7:30 Report.
She has interviewed every current and former Australian Prime Minister, along with world leaders from France, Britain, Ireland, Israel and the United States. As the ABC's dynamic, Washington Correspondent, Ellen has reported from locations all over the world, as far afield as The North Pole, and as challenging as 30,000 feet over Serbia from a US Air Force refuelling jet.
Let's challenge the stigma surrounding mental health in the media
As passionate advocates for giving people with complex mental health issues a voice, Flourish Australia is committed to continuously seeking ways to represent them well, where it matters the most. Challenging the stigma surrounding mental health, and the marginalisation of people who experience complex mental health issues, is of paramount importance to Flourish Australia. We are continually looking for better ways to inform the media who are in a position of influence to promote positive awareness of mental health issues, and a healthier view of the reality of recovery.
We are very much looking forward to what Ellen has to say about Mental Health In The Media and how we can contribute to making a positive difference. Questions will be welcomed from our viewing audience. So please put it in your diary and plan to enjoy your lunch with us, as we gather online on Friday October 21, to celebrate Mental Health Month together.
Everyone is welcome!
Flourish Australia's FREE online webinar event
celebrating Mental Health Month 2022
Let's Do Lunch with Ellen Fanning, talking about Mental Health In The Media
Friday 21 October, 2022
12:30pm-2pm