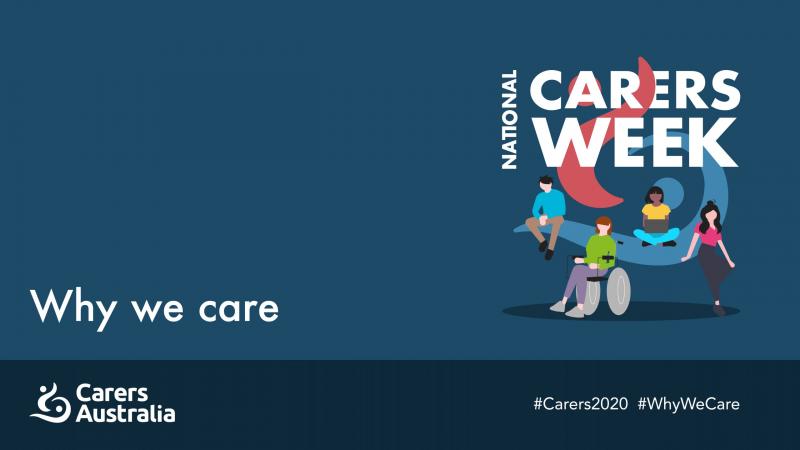 From October 11 to 17, National Carers Week 2020 is an opportunity to recognise the 2.7 million Australians who provide unpaid care and support to a family member or friend.
The people they support are often living with some form of disability, such as a mental health issue, chronic condition or terminal illness, or may be frail or aged. Caring can involve assisting with a range of daily activities, such as dressing, showering, arranging appointments, or managing medications.
Carers are a vital part of Australia's health system and form the very foundation of our aged, disability, palliative and community care systems. It's not a stretch to say that our country couldn't operate without their tireless work. We can show our appreciation by getting involved with one of the many upcoming National Carers Week events, such as a morning tea, a community walk, or some other activity.
This year's theme is "Tell Us Why You Care." We'll be asking carers to open a window into their reality by sharing their stories so that we can celebrate their tremendous contribution.
Anyone can become a carer at any time of life, so it's important for us to understand the true diversity of carers and their roles. If you're a carer, this is the ideal opportunity to let Australia hear your voice!
Everything kicks off at 11am on Sunday the 11th of October, when Carers NSW CEO Elena Katrakis will launch the 2020 National Carer Survey results, say thank you to all carers and highlight all upcoming events.
Due to COVID-19, most events will be happening online. Carers NSW will host a range of online workshops and webinars: carers from across NSW are invited to enjoy free online content such as mindfulness meditation, tai chi, art workshops, and a Carers + Employers webinar about developing carer-friendly workplaces.
The webinars even include a carer panel discussion, hosted by television personality Georgie Gardner. Carers will talk about their experience over the past 12 months, the ways in which their lives have changed, the challenges they face, the impact on their own health and wellbeing and their strategies for coping.
Useful links for your reference:
All Carers NSW webinars are delivered using Zoom. To take part, you'll need access to a computer with speakers and ideally with a microphone and video camera. Event details can be found at

www.facebook.com/carersnewsouthwales.

The Carer Gateway provides carers with information, advice, peer support, coaching and training, free counselling and more. Check out

carergateway.gov.au

if you want to know more.
For more information about National Carers Week please visit www.carersweek.com.au.
On Twitter, you can use #Carers2020 or #WhyWeCare
On Facebook, search for National Carers Week 2020.
By Grant J Everett, Panorama magazine
Talk to us today
For more information, contact us on 1300 779 270 or make an enquiry now.