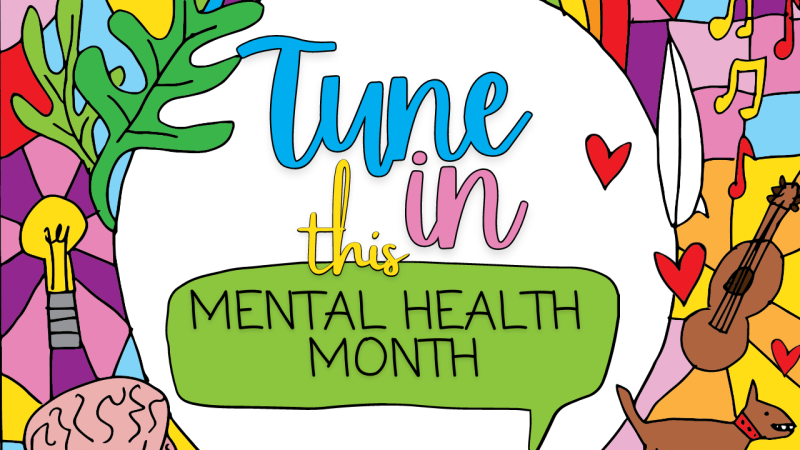 This October is World Mental Health Month, a time to reflect on our different lived experiences with mental health and wellbeing. It is also an opportunity to advocate for better mental health recognition and support. 
This Mental Health Month theme is "Tune In." We're encouraged to be present and aware of our senses, our communities and the stigma some people still face. The goal is to understand how attitudes towards mental health and wellbeing impact our lives and the lives of those around us. 
This year, Flourish Australia is excited to be hosting many online and physical events, in celebration of Mental Health Month.
Feel Good Fête
Throughout October, many Flourish Australia services and workplaces will be hosting special events for employees and the people who access these services.
As part of the organisation's brand relaunch, Flourish Australia will be hosting a Feel Good Fête at Surry Hills on Saturday October 22nd. Unlike the standard fêtes of yesteryear, the inaugural Flourish Feel Good Fête on 22 Oct 2022 will focus on the theme of Complex Mental Health and Feeling Good. Community stalls, mental health workshops and fun activities for you to browse! 
Save the Date, more information to come.
Let's Do Lunch!
Every year, Flourish Australia welcomes a prominent keynote speaker to present about their connection with mental health issues. In past years we've hosted multiple World Champion surfer Lane Beachley, author Sam Bloom and Former Leader of the Opposition in the New South Wales Legislative Assembly John Brogden.
Join this year's Let's Do Lunch virtual webinar where respected Australian media identity Ellen Fanning, award-winning current affairs journalist will be talking on "Mental Health and the Media." This event will take place online on Friday October 21st, from 12:30 pm to 2 pm. Everyone is welcome, so be sure to get in on this Free Webinar Event!
TheMHS Conference Syndey 2022
The annual TheMHS Conference (short for The Mental Health Services Conference) is the largest mental health conference in Australia, and this year it runs from October 11 to 14 at the Wesley Conference Centre in The City. TheMHS exists to challenge the boundaries of how we view mental health and how the mental health system is run, and presenters come from all walks of life. Flourish Australia will be platinum sponsors at this year's TheMHS Conference, so be sure to visit our booth where we will share information about the services we have to offer, but DO NOT MISS the many presentations that will be happening throughout the conference by Flourish Australia staff, people who access services, and members of the Community Advisory Council.
To view the conference program and register your visit HERE
We will be running many more events across several Australian states, so find out what your local Flourish Australia location is doing this Mental Health Month! 
We want to hear from YOU! Be sure to let us know what you got up to during this Mental Health Month. We'd love to hear how you celebrated this important annual event!
By Grant J Everett, Panorama magazine
Talk to us today
For more information, contact us on 1300 779 270 or make an enquiry now.