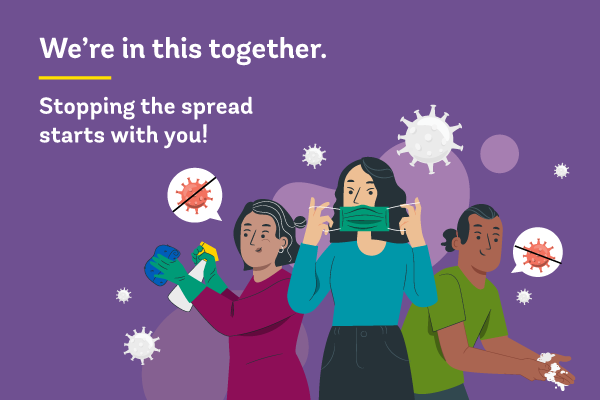 The Flourish Australia team encourage you to stay safe and stay informed, as the Governments impose new restrictions in response to the latest COVID-19 outbreaks.
There are steps that we all need to take, to protect everyone's safety and wellbeing.
Greater Sydney (including Sydney, Blue Mountains, Central Coast and Wollongong) are in lockdown until 9 July.
This means that people can only leave home for the following reasons:
shopping for food or other essential goods and services

medical care or compassionate needs. This includes getting a COVID-19 vaccine.

exercise outdoors in groups of 10 or fewer

essential work, or education, where you cannot work or study from home
If you have been to Greater Sydney any time from June 21, then travelled back to a regional area, you must adhere to the lockdown conditions for 14 days after you left Greater Sydney.
Whilst the most significant restrictions are occurring in NSW, there are restrictions occurring in many States and Territories and you should check with your local Health Department.
You can keep up to date with restrictions from your local Health Department on their websites:
Notably, Flourish Australia is taking the following precautions when delivering supports in NSW:
To reduce the chance of spreading infection, face-to-face contact will be

limited.

We will increase phone support

or online supports

for those people who need it.
Health check-ins

will occur to ensure everyone is prepared for not being able to go out, including having access to food and medication.

Our staff

are

continually

checking

Health Hot Spot listings.

Encouraging people to speak with their GP about COVID-19 vaccination.
Where face-to-face supports are necessary:
Physical distancing will be observed

Face masks will be worn at all times by staff

People we support do not have to wear a mask in their own home but will be supported 

to

wear a mask in public settings, such as supermarkets
Hand sanitiser will be used

regularly

Equipment will be regularly

clean

ed
What this means for the people we support:
To avoid the risk of spreading COVID-19,

all

face-to-face programs in Greater Sydney are currently suspended.

S

upport worker

s

will be in touch

with people

regarding

telephone or

online alternatives.
Anyone receiving supports will 

be encouraged

to complete a health check-in

to help us know what supports are required during this

period.

People will be supported to check whether they have been to a hot spot and what to do if they have.
We are also following the Public Health Orders in all of the other places in which we deliver supports – Queensland, the ACT and Victoria.
We understand that this can be a very unsettling time and we are here to support people through it. Please remember to stay connected and take steps to do so safely.
We may all need to do things a little differently for a while, but we have done it before and together, we have done it well and stayed safe!
We thank you for your understanding and cooperation as we all respond to these ever-changing pandemic conditions.