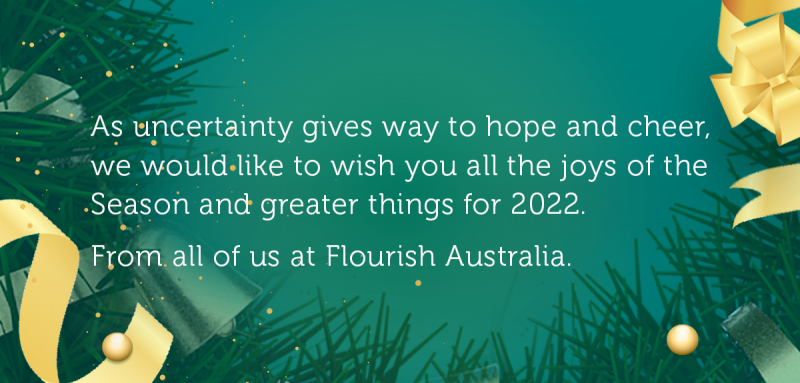 Thank you for the difference you have made this year to the work we do supporting people to pursue the life they seek for themselves. Together, we've come through tough times with positivity and can hold high hopes for the year ahead.
At a time when coming together is top of mind, we can reflect on the strength of the connections that have carried us all so positively through another challenging year. I am moved by the way that everyone connected with Flourish Australia pulled together to make life better through really tough times, from the wonderful people we support and our dedicated staff, to our community business customers and generous funding partners and donors.
We believe wholeheartedly that building community is critical for overall wellbeing. Let's feel proud of the innovation we've all embraced, to come up with new ways of keeping people connected and counteract the effects of isolation brought about by pandemic conditions.
In the face of so much uncertainty, I have seen hope rising in each and every one of the people we have supported this year. It's encouraging to see that we've not only come through significant changes together, we've chosen to take the positive aspects of change into our future.
As we reflect on 2021, I sincerely thank the members of our Community Advisory Council for their continued commitment and advice about our services. Their contribution is important to keeping us true to our purpose.
Thank you to the Flourish Australia Board and the many Flourish Australia team members, who have responded with commitment and agility to the ever-changing requirements of delivering safe supports to people with lived experience in a COVID-19 environment.
We are extremely thankful for the life changing difference our Community Business customers make to so many supported employees. It's thanks to the cleaning, car washing, grounds maintenance and packaging projects you entrust us with that we have been able to guarantee job security for people, in an unpredictable and volatile operating environment.
We thank our many service partners who work with us to ensure people receive the supports they require. Our partnerships with you make us better, and inspire us to do more.
All that has been achieved this year would simply not have been possible without the vital contributions of our funding partners and donors. Our funders have been so supportive and flexible once more this year, focused on ensuring people get the supports they need to stay connected and continue to pursue their mental health recovery.
In a year that has been so hard on everyone, it has also been heartening to see local business owners, student groups, clubs and individuals, so motivated to make fundraising efforts to support our work within their local communities. Thank you!
And, most importantly, thank you to everyone who has asked us to walk alongside them on their recovery journey this year, people with lived experience who access supports, and families and carers. We'd wish for no better or more inspirational people to spend the year with. Thank you for the encouragement, mutual support and learning we share.
We hope you all get the opportunity to spend time with the people who matter most to you over the next few weeks, and to rest and recharge.
However, we know that this may be a particularly difficult time of year for some people. If that's you, please don't hesitate to reach out for the support you need.
We hope you all continue to stay COVID safe over the Festive Season and Summer break.
We can't wait to reconnect with you all again in the new year.
Mark Orr AM
Chief Executive
Talk to us today
For more information, contact us on 1300 779 270 or make an enquiry now.