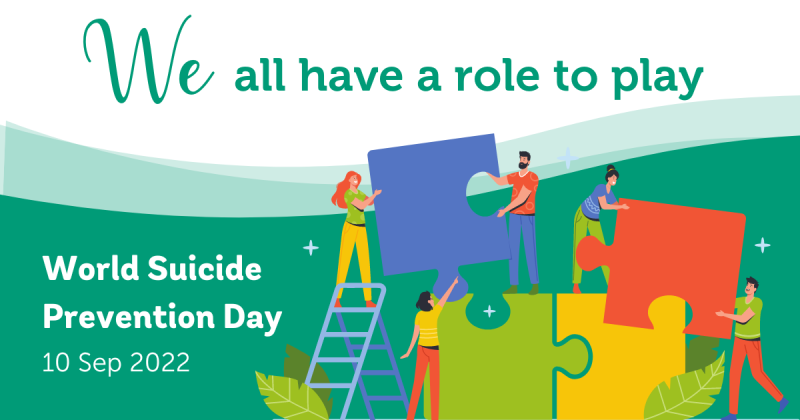 We can all play a part in helping to save lives by creating hope for suicide prevention, through action. Get involved in World Suicide Prevention Day on Saturday September 2022, to find out what you can do to make a difference, or where you can turn to for help if you are struggling with suicidal thoughts.
Almost half of all Australians know someone who has been impacted by suicide. To change this, The International Association for Suicide Prevention has organised World Suicide Prevention Day, in conjunction with the World Health Organisation (WHO). The aim is to:
reduce the stigma surrounding suicide

drive far-reaching policy change

encourage people contemplating suicide to reach out for help

support those who have attempted suicide

remember those who have been lost to suicide and the people left behind who live with deep grief
The key message of this year's theme, Creating Hope Through Action, is that suicide can be prevented and there are alternatives for people who feel unable to see a way forward in their lives. Activities and resources are provided to empower you to confidently take well-informed action to help prevent suicide.
Here's how you can help bring hope by taking action
By taking part in World Suicide Prevent Day, you'll learn about the simple steps you can take to let someone considering suicide know that there is hope, that you care and that you want to support them, such as:
reaching out to start a conversation with a friend or family member you are concerned about

making it clear that it's ok to talk it out

taking the time to really listen without judgement to what they are thinking and feeling

showing them that you are there to support them

avoiding taking over the discussion and relating it back to yourself
You might also think about organising an event in your local community or workplace to bring the conversation about suicide, out in the open.
What matters most, is that the issue is talked about.
Flourish Australia has made a firm commitment to suicide prevention by investing extensively in making Applied Suicide Intervention Training (ASIST) available to all of our staff. Our in-house trainers all have qualifications and experience in Training and Assessment as well as professional qualifications in the mental health and public health fields.
Talk to us today
For more information, contact us on 1300 779 270 or make an enquiry now.