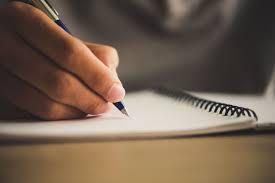 As you learn to clarify your thoughts and emotions more efficiently and accurately, through creative writing, you will communicate more effectively; a skill that's exceedingly important in all areas of life.
Practising creative writing is about a lot more than just improving your grammar, spelling and vocabulary; it will allow you to develop your own unique voice and share your perspective without limitations, expressing how you feel about the worlds inside and outside of your head. When you engage in creative writing you're stimulating your imagination and thinking outside the box, which teaches you how to think more innovatively and push boundaries. Both are valuable skills.
Creating a pretend universe will often mean assembling personalities, emotions, and places that might be totally alien to your own life experiences. This is an effective way to build on your capacity to feel empathy and understanding for people who may have had very different life experiences to your own. Your perspectives and philosophies can be mirrored or explored by your characters or their setting. With practise you'll find yourself becoming more comfortable in asserting your opinions and values in real life.
Expressive writing can bring a range of mental, emotional, and physical health benefits.
If you engage with creative writing when you're dealing with difficult emotions, it can help you explore why you're feeling what you're feeling, allowing a direct insight to your mindset. It's an opportunity to work through whatever discomfort we're experiencing so we can get back to whatever we want to achieve today; a healthy way to alleviate the negative thoughts and emotions we experience on a day-to-day basis.
Of course, creative writing exercises can also expand your vocabulary and provide a better understanding of the mechanics of the written word. You'll learn to distinguish when grammar works and when it doesn't. With practise, your writing will flow better for the reader.
According to clinical psychologist Karen A.Baikie and psychiatrist Kay Wilhelm, writing creatively about traumatic, stressful or emotional events has been found to improve both physical and psychological health. In a clinical trial, participants who wrote about difficult life events for 20 minutes, on a handful of occasions, had significantly better physical and psychological outcomes compared to those who wrote about neutral topics. Baikie and Wilhelm concluded that expressive writing has real potential as a therapeutic tool for survivors of trauma and in mental health treatment settings.
By Grant J Everett, Panorama magazine
Talk to us today
For more information, contact us on 1300 779 270 or make an enquiry now.