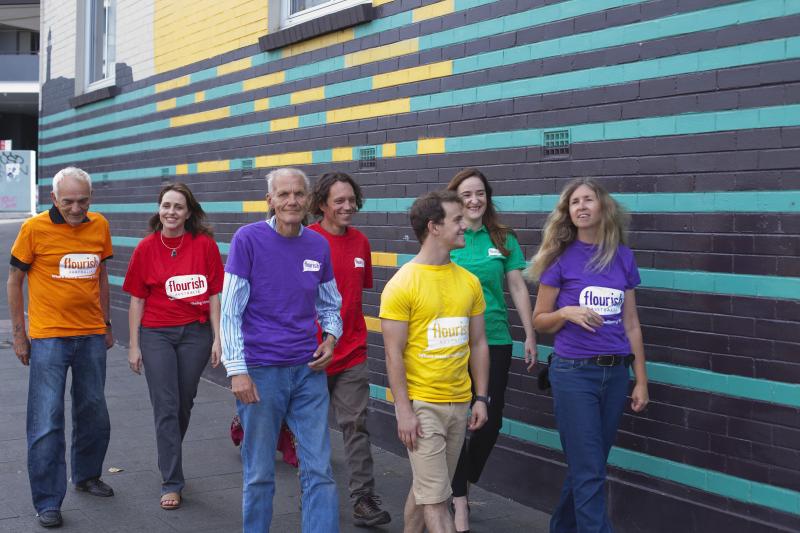 Some years ago, Flourish Australia developed Three Vital Behaviours as the core of our Recovery Action Framework. We asked ourselves the question: "what three things can everybody do that would make the biggest possible difference to the lives of the people who access our services?"
The Three Vital Behaviours identified and are now actively endorsed by Flourish Australia:
To encourage each other to use strengths-based language

To hold recovery conversations

To engage in reflective practice
Our approach to recovery is centred the person, not the diagnosis.
Recovery is a personal journey of discovery.  It involves making sense of, and finding meaning in, what has happened; becoming an expert in your own self-care; building a new sense of self and purpose in life; discovering your own resourcefulness and possibilities and using these, and the resources available to you, to pursue your aspirations and goals. (Perkins et al 2012 quoted in Flourish Australia's Recovery Action Framework)
We often find that people who live with mental health issues are overwhelmed with thoughts about what is perceived to be 'wrong' with them. A mental health diagnosis can become the central concern of their lives and overshadow their abilities. We find that it is beneficial for people to talk deliberately about their strengths. However modest these may seem, strengths are a foundation to build upon. A person's diagnosis does not define their whole self!
People who access Flourish Australia services often remark that when they started out with us, they at last found people who would listen to them. This is what recovery conversations are about; people discovering that life consists of so much more than seemingly insurmountable barriers. There are many things we can do and our lived experience might even make us better equipped to deal with some situations.
Reflective practice means thinking about what you do and say, then asking yourself what you can do that will improve on that to achieve a better outcome. Life is a kind of learning process for all of us and reflection is necessary in all walks of life.
For the past five years or so, we have taken a "Recovery Roadshow" to all of our services as a way of ensuring that staff are equipped to use the three vital behaviours every day. The main thing is that the three vital behaviours can be demonstrated by everyone, anywhere, at any time. We believe they will benefit, not only our staff but the people who access our services and the wider community.
By Warren Heggarty from Panorama Magazine
Talk to us today
For more information, contact us on 1300 779 270 or make an enquiry now.